The next version of Android 3.0 (Honeycomb) will feature a new holographic look, five customizable home screens, a Windows-style taskbar and tabbed browsing. Google released a platform preview of Android 3.0 to third-party developers on Wednesday so it could get busy prepping applications for the updated mobile OS. The search giant also released a series of screenshots showing what's new in Android 3.0 and what the new OS might look like on a tablet device.
You may have seen some of this before in Google's sneak peek video released in early January. But the screenshots offer a more detailed look at Google's first Android version specifically designed with tablets and smartphones in mind. Here's a look at what to expect in Android 3.0, Honeycomb.
Ground Up
Google says Android 3.0 has been completely redesigned with a new user interface (UI) theme it calls "holographic." Every app and system view in Android 3.0 will have a "system bar" at the bottom of the screen similar to the notification area in the Windows 7 taskbar. Google's system bar gives quick access to things such as system notifications, system status and navigation buttons. When you watch a video the status bar will go into "lights out" mode for full screen viewing.
Applications will use something called an "Action Bar" (not pictured) at the top of the screen for application-specific functions such as navigation and menu options.
Customizable Home Screens
Honeycomb-powered tablets will have five customizable home screens that can be dressed up with specific widgets, app shortcuts, and wallpapers. You will have access to all installed applications on the device via the Android application launcher from every home screen. There will also be a dedicated search box on every home screen to help you find content on your device such as apps, files and contacts.
iPad-style Multitasking?
When you want to see an active app in Honeycomb you touch a "recent apps" button on the system bar. This calls up all open applications and shows their current state. In other words, it shows you what an app looked like before you switched out of it into another application.
Copy-and-paste
Everybody's favorite mobile device feature: copy-and-paste is getting a redesign in Android 3.0. The new system sounds a lot like what happens on the iPad: press and hold to select a word and then adjust the selection area as needed. Google also says Android 3.0 features a new keyboard better suited to tablets. New keyboard keys include a tab button and easy access to voice controls to take advantage of Android's text-to-speech features and search by voice.
Tabbed Browsing
Taking a cue from Google Chrome, Android's Web browser will include Chrome-style tabs instead of windows. You will also be able to sync Google Chrome bookmarks in Honeycomb. Bookmarks and history have been moved into a single, unified view, Google said.
Tablet Camera
Rumor has it a rear-facing camera is coming to the next iPad, but Android will definitely get cameras with Honeycomb tablets, or at least the software capability to have a camera. Android 3.0 has a new camera interface for tablets that includes quick access to functions such as exposure, flash, focus and switching between front- and rear-facing cameras. You will be able to view photo galleries in full screen mode on Android 3.0 tablets.
Multi-pane UI
To take advantage of the increased screen space, applications can be broken into multi-pane interfaces. Such as this contacts application that shows a list of contacts, then a second pane for contact details and a third pane for editing contact information.
Multiselect Drag-and-drop
Android 3.0 will also make it easier to manage lists such as messages in your inbox with a new multiselect system for functions such as drag-and-drop and copying. This would let you move multiple files around your system with just a few taps or select a number of items at once for deletion.
All About Widgets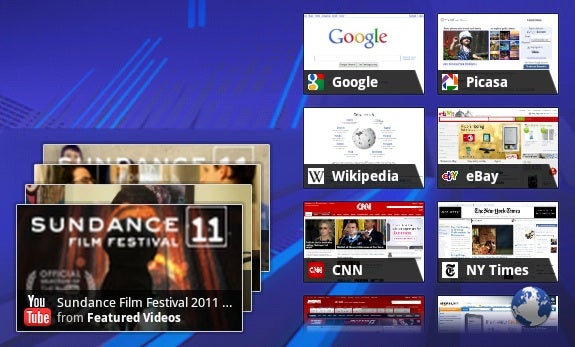 Android 3.0 will have a big focus on widgets, those small quick access windows to content such as YouTube or The New York Times. Developers will now have more access to creating widgets for your home screen. Users will be able to scroll through widgets in new ways such as moving through a 3D stack with a simple flick.
Connect with Ian Paul (@ianpaul) and Today@PCWorld on Twitter for the latest tech news and analysis.