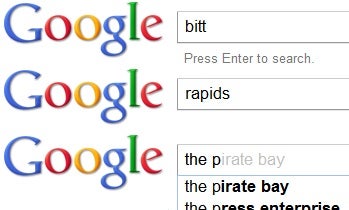 What do curse words, porn terms and the word BitTorrent have in common? They're all blacklisted from Google Instant.
Google Instant is Google's search tool that shows results dynamically as you type. To shield our sensitive eyes, Google Instant hides offensive words and phrases so they won't appear unless you type the full query and press "enter." Now, Google has added BitTorrent to the blacklist along with several Websites that the company closely associates with digital piracy, such as RapidShare and MegaUpload.
So for example, if you type "bitt" into the search bar, the results field goes blank. Same goes if you type "rapids" or "megau." But if you fully complete the words "BitTorrent," "RapidShare" and "MegaUpload," Google does return instant results, realizing perhaps that there's no stopping you at that point.
Google Acts as Word Cops
As Search Engine Land points out, this change has been in the pipeline since December, when Google announced a handful of copyright protection initiatives. "While it's hard to know for sure when search terms are being used to find infringing content, we'll do our best to prevent Autocomplete from displaying the terms most frequently used for that purpose," Kent Walker, Google's general counsel, wrote at the time.
Of course, hiding piracy-related search terms from Google Instant won't have a measurable impact on copyright infringement. The move seems more like an olive branch for the entertainment industry, which Google is now trying to court on a few fronts. In addition to Google TV, the company is reportedly creating music service and has flirted with paid movie rentals on YouTube.
The Company BitTorrent Not Pleased
But in exchange for credibility from rights holders, Google may lose trust from savvy users. It's disconcerting to know that Google is arbitrarily singling out Websites for inferior search treatment for their associations with piracy, regardless of any legitimate uses they might enable. BitTorrent isn't even a file-sharing Website, it's just a peer-to-peer protocol.
"What Google may not realize is that our technology is used for many purposes that provide significant value to the technology industry, companies, artists and consumers at large," BitTorrent Vice President of Product Management Simon Morris told TorrentFreak.
Besides, the blacklist is full of holes. At typing "the p" into the search bar instantly returns The Pirate Bay on top of the list. Trying to hide pirated content from search results seems as futile as trying to eliminate piracy itself.