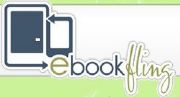 When e-book lending came to the Nook – and then eventually to the Kindle – it opened the gates for e-reader owners to connect and spread the wealth of literature. But despite the popularity of e-readers, chances are that not all of your book-loving friends owned one, or they "went tablet," so swapping was limited-until eBookFling.
Think of eBookFling as a social network-based library. Here's how it works:
The service is free to join
Lenders earn 1 credit for every 5 books they list on the site as available for borrowing
Borrowers create a wish list queue of books they would like to read
If the borrower finds their tome, the lender receives an e-mail and can then lend the book through Amazon.com or BarnesAndNoble.com
Borrowers have 1 credit deducted from their account; the credit goes to the lender
Per Amazon and Barnes and Noble's restrictions, the borrower has 14 days to finish the book, whereupon it returns to the lender's device
No credits? You can still borrow books for $1.99
No Kindle or Nook? Download the respective apps onto your smartphone
eBookFling was created by Nick Ruffilo and George Burke, the founders of BookSwim. BookSwim functions as the Netflix of books: you pay for an account that allows you to borrow a certain amount of books for an unlimited amount of time. I tried BookSwim but found it to be a waste of time – why wasn't I going to the library where all this stuff is free?
But eBookFling's business model is clearly different – and could anger a lot of businesspeople. The press release appropriately addresses this concern:
"The initial reaction may be a negative. Publishers and authors will claim the lending feature is being abused and causing cannibalization of sales. Authors are already bending over backwards by giving away many of their backlist (older) books free in the Kindle & Nook stores as promotion for the author's new release. From their perspective, now they'll have to worry about making only half the sales on the new books too!?"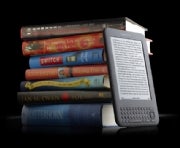 The press release also notes that 14 days is enough time for most people to finish "a short novelette, copy the recipes in a cookbook, or read that important chapter in a tech manual or how-to book," without ever requiring purchase.
However, let's say you really dig a book and want to own it – or own it as much as Amazon lets you. eBookFling, like peer-to-peer music swapping sites, may inspire the borrower to make a legit purchase (and then strip it of DRM to legit own).
Still, there's a chance that if eBookFling takes off, Amazon and Barnes and Noble could either revoke lending privileges or alter their terms of service in such a way that sites like eBookFling cease to exist.
For now, enjoy. Start that book club you've always wanted, and do it all online.