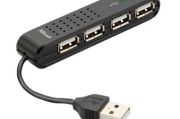 Reader Jay wants to know how many USB "splitters" he can use with his desktop. The system has four USB ports in the back and two in the front; Jay says he's already using one splitter, but needs two additional USB ports.
Holy mackerel, Jay, how many devices do you have? (I'm a power user myself, and only four of my desktop's six ports are occupied.)
To answer your question, yes, it's safe to add another splitter (which, although an apt description, is traditionally known as a USB hub). In fact, a PC is theoretically capable of accommodating up to 127 USB ports. However, the reality is a bit different.
By "splitting" a USB port, you reduce the power available to the newly added ports. Whether or not that's a problem depends on the kinds of devices you plug in, but I strongly recommend using only powered USB hubs. They cost a little more, and force you to find yet another free AC outlet, but they virtually eliminate the issues that tend to arise with non-powered hubs.
I also recommend plugging each hub directly into one of your PC's built-in USB ports. In other words, don't daisy-chain them. And if you use an external hard drive, plug that into a built-in (i.e. non-hub) port as well. When it comes to your data, it's not wise to risk any kind of power fluctuation.