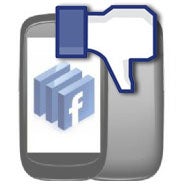 Hey, did you hear? Facebook is launching its own phone. I read it on the Internets, and those Internets are never wrong.
Except when they are. Like this time. The much-discussed Facebook phone fiasco, as you probably know by now, re-emerged in grand style this week when a British news site reported — with no sense of uncertainty — that HTC was about to unveil two "Facebook-branded" smartphones. The phones, the site said, would be officially endorsed by Facebook and focused on tight integration of the social network's services.
Does that sound familiar? It should. Last September, the rumor-loving crew from TechCrunch declared that Facebook was "secretly building a phone," citing the ever-popular unnamed source with "knowledge of the project." Facebook emphatically denied the claim, straight out stating that the story was "not accurate." This, naturally, led TechCrunch to conclude that the story was definitely accurate.
It should come as no surprise, then, that Facebook has come forward once again to knock down the Web's recurring case of Facebook-phone rumoritis. In a statement quoted by Reuters, Facebook's business development director said there is no HTC Facebook-branded phone in the works. If anything, he said, HTC might be using Facebook's programming interface to integrate the site's data into an upcoming device — in the same way that many Android developers do now, via various widgets and manufacturer-created skins.
It's amazing in our modern-day publishing climate how frequently this sort of thing happens: A vaguely sourced rumor appears on some blog or news site, other blogs pick up the scuttlebutt and republish it — and, thanks to the telephone-game effect and the blogosphere's echo chamber-like nature — it isn't long before dozens of blogs are reporting the hearsay as fact. Sometimes the news in question is relatively small in scope, like a "confirmed" rollout of an Android phone's upgrade. Other times, it's something bigger, like Google supposedly signing the paperwork to buy Digg — or the Verizon iPhone, which you may recall was absolutely, definitely confirmed to be coming on about a dozen different dates prior to this month's announcement.
(Speaking of which, did you hear that Myspace is now launching its own smartphone? It's landing sometime in the second quarter of 2011, I think, or first quarter of 2012. Maybe mid- to late 2013. But definitely by 2097.)
Now, I'm not insinuating that the folks reporting these rumors are obsessed with deception. Sometimes, a legitimate source approaches a publication with legitimate info. But when blogs publish any and every "leak" they're handed without any level of vetting or accountability — and without even clearly presenting the info as speculation rather than fact — it can get difficult as a reader to differentiate the good from the garbage.
Maybe there is some top-secret Facebook phone still being developed in a musty lab 40 stories below Mark Zuckerberg's desk. And maybe that Google-Digg acquisition is still on the brink of being completed. Hey, anything's possible. But until there's a firm and reliable reason to believe it, it's best to take most Web-fueled gossip with a grain of salt.
Just ask the developer of that Myspace phone.
JR Raphael is a PCWorld contributing editor and the co-founder of geek-humor site eSarcasm. You can find him on both Facebook and Twitter.