It sounds like Lenovo is playing Russian roulette with five of six chambers loaded. The company is gambling the future of its business on besting Apple in the tablet and smartphone game. Admirable, but perhaps foolish, as the outcome could shove one of the world's largest PC into a mortifying, bankrupt rut.
Lenovo Chairman Liu Chuanzhi told Bloomberg that the company has an "extreme focus" on its LePhone and LePads — the company's answers to the iPhone and iPad, respectively. Chuanzhi added: "Anyone who loses this battle will be phased out from the history of this industry."
Is Lenovo is actually preparing to be phased out from the history of this industry?
Let's take a look at the facts:
Lenovo gets half of its PC sales in China, a market Apple entered in 200.
In terms of overall sales, Lenovo received 98 percent of its 2009 sales from personal computers, according to Bloomber.
The iPad was launched late last year to massive fanfare, huge lines, and eye-popping sale.
The iPhone didn't do so hot in China at first, but is now the best-selling smartphone there with first-half shipments of more than 900,000 last year, according to industry consultant BDA China Ltd.
Apple grabbed 95 percent of the global tablet market in Q3 2010, making the company the third-largest PC maker in the world — trumping none other than Lenovo.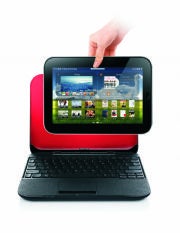 Those figures are not to say that Lenovo's fate is sealed, or that Apple is invincible. But if Lenovo's LePad — a combination of Android tablet and Windows 7 laptop — doesn't thrill the U.S. market, and sales of its LePhone — which, frankly, suck compared to the iPhone's — don't pick up, Lenovo has essentially wiggled into a corner it itself painted Mortified Red.
Betting the house on Android 3.0 adds another bullet to the gun. Though Android 3.0 looks beautiful and shows a lot of promise, iOS still reigns supreme, and once Android 3.0 shows up on millions of tablets, the LePad won't look so innovative anymore.
It'll be interesting to see whether Chuanzhi chomps his words or if Lenovo pulls through.
As a side note: LePad and LePhone-those are horrible names. They sound French. And we all know how Americans feel about the French. . .