To minimize the ability of protesters to communicate and organize–and perhaps to shield its own actions against the protesters from the outside world–Egypt has shut down the Internet and virtually all mobile communications. While the political unrest affecting Egypt may not exist where you live, the Internet blackout in Egypt illustrates an important lesson.
We all remember the unrest in Iran following the last national election, and how the Internet–and specifically Twitter–provided a lifeline for protesters to organize, and to expose ongoing events to the outside world. Apparently, the lesson learned for countries like Tunisia and Egypt was to eliminate access to the Internet and other forms of communication as quickly as possible in the event of a mass protest. For most, though, there is a better lesson to be learned.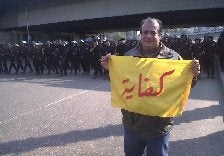 What is the lesson? Basically, it boils down to the Boy Scout maxim "be prepared". Your government may not stoop to the sort of draconian tactics being used by the government of Egypt, and you may have very little concern about a state-sponsored Internet blackout, but that doesn't mean that your Internet access can't be interrupted. Regardless of whether your loss of communications is a result of a nefarious government blackout, a catastrophic natural disaster, or simple human error, if it happens what will your "Plan B" be?
Organizations should have disaster recovery and business continuity plans in place that outline a course of action to take in the event that Internet access is unavailable, or even a complete communications blackout such as in Egypt. Are there alternate systems or methods of conducting business that you can fall back on until the issue is resolved? Do you have a plan for addressing the issue and working to restore access as soon as possible? Will you just pack up and go home and hope for the best?
To begin with, IT admins should implement as much redundancy as the budget allows in order to eliminate single points of failure and ensure that business will continue even if a single system or connection crashes. Dual servers comprised of RAID storage arrays, with dual power supplies connected to two separate power sources, and dual network cards connected to separate switches or routers, which are in turn connected to separate ISP backbones can provide the kind of redundancy that business-critical systems need. For an example of survivable redundancy, look at WikiLeaks.
Granted, it is possible that no level of internal redundancy will salvage your connection to the outside world if your entire country is under an Internet blackout. But, implementing redundant systems and developing a solid business continuity plan will help your business keep chugging along through most issues.