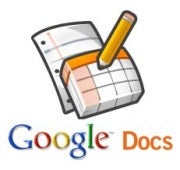 I'm a big fan of Google Docs. The main appeal is being able to use it on just about any computing device, anywhere I go. I also like being able to share files easily with friends and colleagues.
However, I've been staying away from it recently because it's difficult to backup documents locally on my computer's hard disk. This is useful in case I ever find myself without an Internet connection (if my DSL dies, for example), although it also makes sense in other ways; what if Google accidentally deletes my account, or some other catastrophe happens?
Automated offline storage was once possible using Google Gears but that's no longer being developed. There are rumors that a new system will be in place soon, but while we're waiting I've been seeing what other options there are.
Firstly, however, it's simply wrong to say there's currently no way to back up files from Google Docs. On the main file listing, simply click the "check" icon at the top left and then click Select All Visible. Then click the More Actions dropdown list and select Download. You'll then be able to download your files in a zip archive–even those you've uploaded to your Docs space that aren't office files.
However, while this is good for occasional backup, doing it every day would be cumbersome.
PC World has mentioned in the past a possible solution: Memeo Connect. However, this only works with Google Docs for Business accounts, and I was looking for a solution that worked with the basic Google Docs we can all access.
A few days ago I stumbled across a potential solution: Busydocs. This is a $30 Windows program that syncs Google Docs files to your computer, and vice versa, should you edit the files locally. It will also monitor the Documents folder on your computer and upload anything you create.
A 50-day fully-featured trial is available. Call me cynical but I suspect by the time the 50 days are up, Google might have introduced its own offline solution, so Busydocs could be seen as a free-of-charge stop-gap measure. However, I suspect that offline backup will only be available in Google Chrome (and perhaps Firefox), while Busydocs appears to work with just about any browser.
Installing the software is easy, but setting it upfor use was a little tricky. Users access the Busydocs interface through a Web browser, courtesy of a private Web server installed on the computer.
This is unorthodox but secure, provided you have a decent firewall installed. It's also invisible to the user. However, Internet Explorer on my test PC was a little irked, and initially said it "Cannot display the Web page." After a minute or two of hitting the refresh button, a Windows firewall dialog box appeared asking if I wanted to unlock Busydocs. Doing so allowed the interface to appear, but then an IE Intranet security warning appeared that I had to manually deactivate.
Thankfully, there was no problem accessing the interface in Firefox.
Next, I had to login to my Google account by clicking the link on the Busydocs interface, which caused Google to ask if I wanted to give "localhost" (referring to my PC) access to my files. Again, this was a symptom of Busydocs using a private Web server, but it could be confusing for non-technical people, and there's no guidance or instructions provided.
Granting permission took me back to the Busydocs interface, which reported it was "reading" my Google Docs files. Ten or so minutes later, everything was downloaded. This included various music and video files I'd uploaded to my Docs space too.
Double-clicking any file opens it in the default editor within Windows; word processor documents opened for me in Microsoft Word, for example. At this stage, you're editing a local copy of the file. When saved, within minutes it will be re-uploaded to Google Docs. In my tests I could check the changes had been uploaded by accessing Google Docs directly in a different browser window.
Changes made to files using the Google Docs site were also reflected in my offline copies of the docs within a minute or two.
However, problems arose when I decided to see what would happen if I edited a file on the Google Docs site and on my computer at the same time. This causes what's known as a versioning error, and it can be difficult to fix.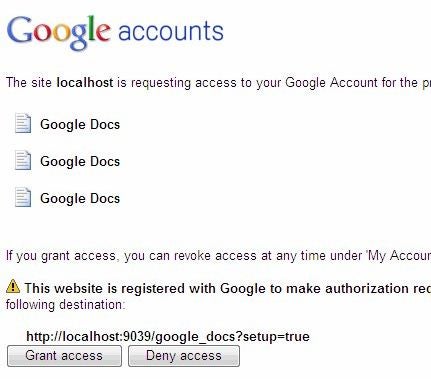 Busydocs' solution is to tell me there's a version clash. It then asked me to click a very small "Resolve Conflicts" link that I didn't spot initially. However, clicking this offers two options: Keep the local copy, or keep the Google Docs copy. Disappointingly, there's no option to keep both, perhaps saving the second as a separate file. The only way forward is to destroy one version of the file.
Unless you share files with friends or colleagues using Google Docs, this won't be a huge issue, but it's definitely something to watch out for. Always wait a few minutes to give Busydocs a chance to sync files before re-opening them online if you've been editing offline, or vice versa. Bear in mind that Google Docs automatically saves files within seconds of you opening them, even if you haven't made an edit, so even viewing the file in Google Docs will cause a version error if you don't wait for syncing after making a local edit.
The other irritation is that Busydocs doesn't tell me when it was syncing files, or if files have been updated after being edited online. A progress display really would help.
My biggest concern is that Google converts the files between Google Docs and standard Microsoft Office formats–such as .doc and .xls–each time they're up and downloaded. I suspect this constant conversion could cause formatting errors to arise, although Google Docs isn't capable of complex formatting at the moment, so this is perhaps moot.
All in all, Busydocs is a little rough and ready, but worth investigating if you're a Google Docs fan. If nothing else, you could simply install it and let it automatically back up files in case of emergency, and never actually edit files locally unless in an emergency. The program runs invisibly in the background and you don't need to have the browser interface open for it to work. However, it doesn't allow access to files stored offline without using the browser interface, which is something of a disappointment.
Keir Thomas has been writing about computing since the last century, and more recently has written several best-selling books. You can learn more about him at http://keirthomas.com and his Twitter feed is @keirthomas.