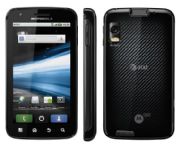 Motorola's state-of-the-art Atrix 4G smartphone won't break the bank if a couple of pricing rumors prove accurate.
On Thursday evening, an Amazon product page briefly listed the Atrix 4G for $150 with a new two-year contract. Amazon removed the page, but then Android Central received an image of a Costco inventory screen, also showing a $150 price tag. Third-party retailers usually sell phones for lower than the suggested price, so if these prices are correct, my guess is that AT&T will sell the Atrix 4G for $200, or $250 at the most.
The Atrix was one of the most interesting products at CES. It's part of the first wave of dual-core smartphones, powered by Nvidia's Tegra 2 processor and Android 2.2, and has a 4-inch display, 1 GB of RAM, 16 GB of on-board storage, front- and rear-facing cameras, a 1930 mAh battery and a fingerprint reader. Motorola will also sell laptop and desktop docks that run a full version of Firefox, powered entirely by the phone.
How much the docks will cost are still unknown, but some early chatter from a Best Buy insider suggest that the laptop dock could cost $150. If that's the case, I would not be surprised to see a $300 phone and laptop dock bundle, but we'll see. More rumors suggest a February 13 release date, but the official word from Motorola is the end of February.
It all seems a little too good to be true, but AT&T does have to lure potential Verizon defectors somehow.
Check out our demo from its debut at CES.