Take cover — a few well-known, dive-bombing birds will soon invade your local movie theater.
Angry Birds designer Rivio announced Friday it will release a special version of its popular app to tie into the release of the animated movie "Rio."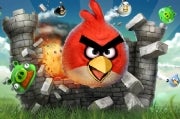 In the game — called Angry Birds Rio — the Angry Birds characters are kidnapped and taken to Rio de Janeiro. It looks like gameplay will revolve around saving other captured birds, including two main characters from the upcoming movie, which is from the creators of "Ice Age."
The partnership was announced at a press event on the Fox studio lot in Century City, according to the Los Angeles Times.
The deal seems to be a match made in heaven for both Rovio and Twentieth Century Fox. The game will benefit from being tied into marketing efforts — including TV spots, posters, and the film's website. The movie will be able to piggyback on the pop-culture success of the game which has been downloaded tens of millions of times on Android, iOS, and other smartphone and console devices.
"It's about taking that traditional entertainment experience — whether in theaters or on the TV screen — and creating a new level of engagement," says Peter Levinsohn, president of new media and digital distribution for 20th Century Fox.
The plans work in well with Rovio, which has ambitious plans for Angry Birds — including television shows and even a movie based on the game.
"We are like birds of a feather," said "Mighty Eagle" Peter Vesterbacka of Rovio. "This gets us massive global visibility, as if we had made our own movie."
The game will be released in March while Rio, the movie, will open in theaters on April 15.
VentureBeat recently got a word in with "Mighty Eagle" about Angry Birds Rio.
Here's the trailer for the film: