Get ready, Angry Birds fans: Game maker Rovio is teaming up with 20th Century Fox to produce Angry Birds Rio a new version of the Angry Birds game based on the upcoming animated movie RIO starring Jesse Eisenberg, Anne Hathaway, Jamie Foxx, Tracy Morgan and George Lopez.
This is Rovio's first flirtation with Hollywood following reports late last year that an Angry Birds TV show or movie might be in the making. Our high-strung feathered friends haven't got their own entertainment deal yet, but these crash-happy flyers just might have a big future ahead of them in Hollywood.
Here's what we know so far about the next Angry Birds adventure.
When is the new game coming out?
Angry Birds Rio is due out in March. A specific date hasn't been announced yet, but the game release will coincide with RIO's red carpet premiere that same month. The movie opens in theaters April 15.
Does Angry Birds Rio have the same premise as previous Angry Birds games?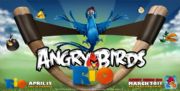 Angry Birds Rio will be a little different from the original, where you smash structures and destroy green pigs. In the new game, the original Angry Birds characters are captured and taken to the city of Rio de Janeiro, Brazil.
The birds escape their captors and then set out to save the two stars of RIO, Blu (Jesse Eisenberg) and Jewel (Anne Hathaway). It's unknown if the voices of Eisenberg and Hathaway will be included in the game. Rovio says the new game will use "unique twists" based on the film. It's also not clear if the green pigs will be making an appearance in Angry Birds Rio.
How many levels are there?
The game will debut with 45 levels, but Rovio says more levels will be added via app updates.
How much will the game cost?
Pricing for the game hasn't been announced.
Which platforms will the game be on?
Rovio says the game will be on "app stores worldwide," but fails to specify if that means the game will be available on all the app stores where you can find Angry Birds right now. Currently, Angry Birds is available for iOS, Android, WebOS and Nokia devices, as well as Windows PC's via the Intel AppUp Store, the Mac App Store and Sony's PlayStation Portable. No word if Angry Birds Rio will be crashing into Windows Phone 7 devices. Rovio says it will have something to announce for Angry Birds on Linux in late February, and console versions of the game are coming later this year.
If that wasn't enough, there's also word that a Valentine's Day edition of Angry Birds is coming soon. That's two new Angry Birds games before the spring.
See a trailer for RIO.
Connect with Ian Paul (@ianpaul) and Today@PCWorld on Twitter for the latest tech news and analysis.