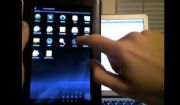 Android Honeycomb won't be officially introduced until Google's big event on February 2nd, but it's already been hacked onto a tablet. And who else would be behind the hack other than a member of the XDA Developers Forum?
Member "deeper-blue" has managed to get Android 3.0 running on his Nook Color, as you can see in the below video. The graphics appear to run pretty smoothly, but as he says himself, most other things still need work–like wireless LAN, accelerometer or even sound.
Still, it's work in progress so it will be a pretty sweet setup once it's complete, and shows just how tablet-friendly Honeycomb really is.
Have your own Android hack to share? Tell us about it!
[XDA Developers Forum via Engadget]
Like this? You might also enjoy…
Get your GeekTech on: Twitter – Facebook – RSS | Tip us off