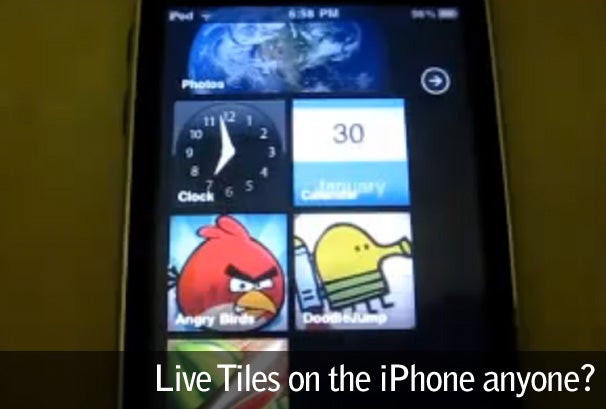 Have you ever looked at a Windows Phone 7 device and thought that its UI offered a refreshing little change from the typical grid-based icon-and-folder view found in other mobile OS's?
If so, then don't go changing your device just yet! Microsoft's latest take on how a smartphone interface should look can now be yours — on your iPhone.
To give the Windows Phone 7 interface a try –complete with snazzy Live Tiles– you will of course need to jailbreak your device. If you're a jailbreaker, the whole process to switch your iPhone's look is a fairly simple one, with full instructions on how to make the change detailed over on the Modmyi forum.
The 'OS7' modification is currently in a free beta period, with Modmyi community members currently discussing its possible cost and future development.
At present only a select few Live Tiles do actually update on the fly, with support for the iPhone calendar, weather and clock app. Beyond the first homescreen of tiles, a secondary screen lists all of your installed apps in an alphabetical list. Any of the applications found on your device can be added to your tiled home screen with ease, as shown in the video below:
If your a fan of the alternative style offered up by Windows Phone 7, but you're just not ready to give up the range of apps offered by Apple's App Store this could be the mod for you.
Is it enough to make you jailbreak? Let us know in the comments.
[Via Modmyi]
Chris Brandrick doesn't care what his iPhone looks like, as long as he can play Fruit Ninja.
Like this? You might also enjoy…
Get your GeekTech on: Twitter – Facebook – RSS | Tip us off