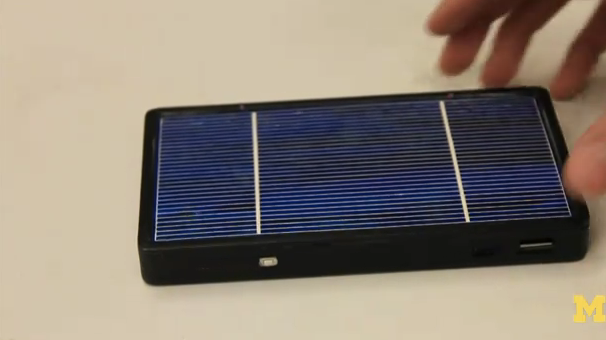 Around the world, there are shortages of food and clean drinking water, but what you may not realize is that there is also a shortage of light for those dark nights in electricity-less areas. A group of students from the University of Michigan have come up with a solution: Emerald, a portable solar panel-powered device that provides 100 lumens of light and power for your electronics.
These engineering students founded the start-up company June Energy. One of the students, Abdrahamane Traoré, comes from Mali where he grew up doing his homework with a kerosene lamp in a poor village. The kerosene lamp doesn't provide sufficient lighting–only about 60 lumens of light–and can be bad for health. Plus you have to continuously buy kerosene fuel for it which can get expensive.
Emerald will provide 100 lumens of light, a USB charging dock, cell phone ports, and a number of adapters. The device charges in only three hours in full sunlight. It can charge a smartphone in the same time it takes to charge by an outlet, and the device can provide light for eight full hours. The students hope to get the price to under $20.
The company's Website is still under construction, but you look on its End Users page you'll see that this product may become available to more than just third-world countries. It will be available to medical volunteers, Peace Corps members, military personnel, and even for people back here in the States who need something for the outdoors.
[University of Michigan via Engadget]
Like this? You might also enjoy…
Get your GeekTech on: Twitter – Facebook – RSS | Tip us off