After several years of offering unlimited storage, popular cloud backup service Mozy has begun capping capacities for home users.
Previously Mozy customers paid just $4.95 per month for unlimited storage. From today they'll have to pay $5.95 for up to 50GB of storage capacity, or $9.99 for 125GB. The latter also allows up to three computers to be added to the backup account. You can buy additional storage for $2 per 20GB, and add additional computers for the same amount
The reason for the change, according to Mozy, is that computers are churning out larger and larger files. Video has gone high-definition, for example, dramatically increasing the size of home movies. The increasing megapixel count on digital cameras has also lead to booming file sizes.
Faster Internet connections also mean we no longer think twice about backing up massive files online.
Unfortunately, it appears that the cloud is having trouble keeping up with us. Products such as Amazon's Simple Storage Service (S3) have shown how insanely cheap cloud storage can be but service providers are having problems turning a dime at even those prices. To give an example of the kind of data Mozy has to deal with, it stores more than 70 petabytes of data for its customers. That's 70 million gigabytes.
Analysts suggest that other cloud services will probably follow suit, putting an end to dreams of essentially infinite online storage.
In other words, it seems the cloud isn't as big as we thought it was. If we want it to be bigger, we'll need to pay.
Blame Google for our false expectations. It was the launch of Gmail and its ever-expanding storage space that first hinted at the potential for cloud storage. Few people ever use all their Gmail space. I've been using the service since 2004, send several large attachments every week, and have currently filled 35 percent of a promised 7547MB.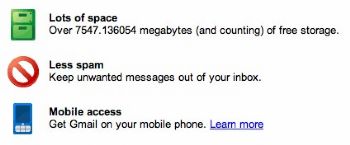 Hints that this level of generosity is unusual came last year with the launch of Google Docs storage–what many hailed as the long-promised G Drive. This offers 1GB of online storage free of charge, but extra storage comes at a price, albeit it a reasonable one. For example, you can add 20GB for $5 per year, 80GB for $20 per year, and 200GB for $50. These are hardly prices to break the bank, but Google forces all uploads to happen through its Web interface, which is hardly the most intuitive method of backing up files.
And rather wisely, Google hasn't released an easy-to-use desktop client; doing so might mean people actually begin to use all of that storage space, which could alter the economics of the situation dramatically.
I'm a little disappointed by Mozy's move. The appeal of the cloud for end users is that it's fuss-free. I don't want to size up files and check available space before I upload data to the cloud. I expect to do it and forget about it. If I'm going to have to put in some effort I might as well setup a local backup system, such as a network attached storage (NAS) device.
Right now Mozy's competitors are still offering the same kind of deals as before. For example, Carbonite offers unlimited backup for $54.95 per year.
Keir Thomas has been writing about computing since the last century, and more recently has written several best-selling books. You can learn more about him at http://keirthomas.com and his Twitter feed is @keirthomas .