Deciding how much graphics power is required when purchasing a PC has never been easy. Investing in a standalone graphics processor from AMD or Nvidia is more often than not overkill for many office applications. However, graphics processors integrated with the CPU have traditionally been weak, and in the past, have not the met the needs of many graphically intensive applications.
It was just a few years ago, for example, that the vast majority of PCs required a stand-alone GPU just to run Windows Vista in Aero mode when the operating system was first released. Not to say that integrated graphics have not come a long away; Intel's new Sandy Bridge architecture promises impressive performance for HD video and PowerPoint. However, a design flaw Intel announced this week resulting in a massive recall for Sandy Bridge chipsets has been a PR disaster for the chip giant.
But now, AMD claims it has radically expanded the reach of what netbooks and laptops can offer without standalone graphics processors now that the first netbooks and laptops with its Fusion architecture are becoming available in retail channels.
Fusion is not just another CPU and GPU launch, but signifies nothing less than the beginning of a new age in graphics computing, AMD says. AMD goes as far as to claim that Fusion represents "the biggest shift in PC technology since x86 processors were first invented." AMD does not describe Fusion using the traditional nomenclature as a CPU with integrated graphics, but instead as an "accelerated processing unit" or an "APU."
But what does this mean for the business user when mulling whether or not to spend the extra money on stand-alone graphics in new laptops with Fusion as they become available? Without running tests, it is impossible to gauge exactly how powerful Fusion is. But according to AMD, Fusion offers superior graphics compared to what Intel's high-end integrated graphics devices offer, including Sandy Bridge.
Specifically, AMD says (again, I have not tested this claim) Fusion offers superior performance compared to any previously integrated architecture for playback of HD content, video conferencing, and when running the graphically intensive Windows Explorer 9. AMD also says laptops and netbooks with Fusion will be able to run more than eight hours on a single charge in netbooks that retail for as little as $200.
The idea is that business users will be able to carry netbooks with them to run graphics-hungry applications with Fusion whether at the office or when on the road. The high-performance netbook will take up much less space when sitting in coach class on a crowded plane minus the chore of having to lug around a huge laptop with a powerful and often expensive graphics processor inside, John Taylor, director, Fusion marketing at AMD, told PCWorld.
"Fusion gives software developers opportunities to innovate for graphically intensive applications for tiny form factors," he said.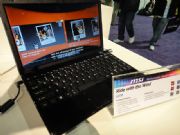 So far, Fusion is available in the Lenovo ThinkPad X120e, the MSI CR650, and the Sony Vaio YB. AMD also claims to have more than 100 design wins for Fusion, most of which have not yet been announced.
So will this "new age in graphics" make it possible to do away with stand-alone graphics cards all together? For the time being, applications involving CAD drawings and very high-end video production applications will require a separate graphics processor, AMD says. So for most business applications and even consumer applications like watching HD video, it's safe to say–if AMD's claims hold true–that Fusion should be more than good enough.
Bruce covers tech trends in the United States and Europe and tweets at @brucegain.