Get ready for your daily dose of Rupert Murdoch. News Corp.'s iPad-only newspaper, The Daily, is set to debut Wednesday morning during an announcement at the Guggenheim Museum in New York City. Company chairman Murdoch will be on hand to make the announcement along with Eddie Cue, Apple's vice president of Internet services. The digital newspaper is Murdoch's attempt to prove that the world is still willing to pay for journalism in a world awash with free news from traditional news sources and independent Websites and blogs.
Murdoch has sunk an estimated $30 million into the new venture, and hopes that a number of the world's nearly 15 million iPad owners will be willing to pay a reported 99 cents per week for the privilege of reading The Daily .
If nothing else, Murdoch's attempt to translate traditional newspaper journalism to the iPad has garnered a lot of interest. It's anybody's guess if this new venture will succeed, since little is known about the newspaper. But here are five key things we do know about The Daily to keep in mind as we wait for News Corp and Apple to unveil the new venture.
If you want to follow along with the announcement, you can point your browser Macworld's live blog coverage of The Daily launch starting at 11 a.m. Eastern.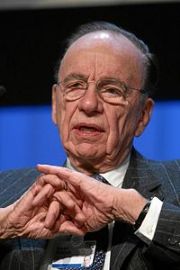 Deep Bench
The Daily looks like it is going to have a solid roster of experienced and well-known journalists. Jesse Angelo from The New York Post will be The Daily's executive editor. Elisabeth Eaves, a former Forbes columnist and editor, will head up the Op-Ed section. The New Yorker's pop music columnist Sasha Frere-Jones will be culture editor for The Daily.
Poynter.org recently did some digging on LinkedIn and Twitter to come up with a list of another 52 staffers at The Daily . Reporters and editors include Bill Bradley
(reporter) contributor to Vanity Fair ; Benjamin Carlson (investigative reporter), formerly at The Atlantic ; Heather Havrilesky (staff critic), formerly at Salon.com; and Peter Ha (technology editor), formerly at Time .
Target Audience
The Daily is reportedly targeted at younger, tech savvy readers. News items will reportedly be short, pithy articles designed to let you quickly get your morning news fill.
New Forms Of Storytelling
The Los Angeles Times discovered a few tidbits about the newspaper from speaking with "a person who has worked on The Daily ." Murdoch's newspaper will reportedly take advantage of the iPad's capabilities with "new forms of visual storytelling." One such example is an immersive 360-degree photograph that you will be able to manipulate and examine.
The idea of taking advantage of the iPad's capabilities is something we've already seen such as Virgin's iPad-only magazine, Project.
Project is a fun magazine to read and often uses gimmicky features such as a cover page that includes video or a photograph covered in virtual dirt that you have to wipe away to see what's underneath. The problem, however, is that this magazine has so many interactive features that the app often crashes and can at times be unusable. If The Daily is going to succeed it will have to be careful to deliver a consistent, crash-resistant experience every day of the week.
Competition Unclear
It's still not clear which newspapers Murdoch's The Daily is supposed to be going up against. Most analysts are pointing to newspapers such as USA Today and local tabloid-style rags as examples of what The Daily will be like. But the more I read about The Daily, the more it sounds like a deluxe version of free commuter papers you can find at subway stations and bus stops around the country.
If that's the case, then The Daily has a good chance of succeeding. People who have a daily commute of 30-45 minutes or more often use that time to read the news whether it's a hard copy of The New York Times, a smartphone app or more often free papers such as Metro. If iPad users can grab a cheap and somewhat better version of a free commuter paper then Murdoch's newspaper might find its niche audience.
Subscription
The Daily is rumored to have a subscription price of 99 cents per week. It's not clear if there will also be a price for single issues of The Daily. Currently you have to buy iPad magazine and news subscriptions outside of the app, and then you download content to your device from within the app. This set-up is supposed to change with The Daily, so look for Apple to announce a new in-app subscription service on Wednesday.
Macworld's live blog coverage of The Daily launch begins at 11 a.m. Eastern.
Connect with Ian Paul (@ianpaul) and Today@PCWorld on Twitter for the latest tech news and analysis.