Like it or not, the PC is going to become more like a tablet. I'm not just talking form factor or whether they have touchscreens; I'm talking about the very way you interact with your computer. And that's a good thing. But for some of us, depending on how things shake out, it could also be a bad thing.
About a year ago–on the eve of the iPad's introduction to be exact–I wrote about why tablets never really caught on. I explored various reasons to explain why there relegated to niche status–kludgy hardware, no killer app, the added cost of buying a tablet PC over an ordinary laptop. But the biggest hinderance to tablets to me has always been the software. Windows-based tablets run a mouse-driven user interface on a touchscreen device. The end result is something that it clumsy at best, and downright unusable at worst.
The same can be said of touchscreen-inspired interfaces on a desktop or laptop.
(Note: I'm using the term "PC" to mean any desktop or laptop that runs a mouse-driven operating system. This includes Macs as well as machines running Windows or Linux. Also, I do use some Apple- and Mac-related products as examples to illustrate my points, but the points I bring up are equally applicable to Windows as well.)
Why Tabletification Might Not Be So Bad
Before we jump into that, though, let's be honest; there are tricks a the PC can learn from the tablet. OSes built specifically for tablets are significantly lighter weight than desktop OSes, which usually take up several gigabytes of disk space. Tablet OSes also represent something of a clean break from the traditional desktop OSes, so they don't carry as much digital baggage.
On the hardware side, there are definitely areas where PCs can learn from tablets. Imagine, if you will, a compact, ultra-lightweight Windows 8 notebook built around a system on a chip instead of a traditional PC processor and motherboard. It would be light, reasonably powerful (or at least powerful enough for most tasks), and feature solid-state storage and extra-long battery life. Think of it as the evolution of the netbook/ultraportable, but with the guts of a tablet.
The Trouble With Tabletification
But while it makes sense to bring tablet components over to PCs, the software side may be a little more dicey.
There's one company that's begun to push the idea of a desktop OS with elements of a tablet–Apple. At Apple's last big media event, the company gave a brief demo of Lion, its next big Mac OS X release. And the iPad influence was really quite obvious. Full-screen modes for apps. A new iOS-inspired app launcher called Launchpad. Even an App Store for Mac software.
Granted, I have yet to get my hands on it, but my initial impression of Lion's new iPad-iesque features is that many of them just seemed tacked on. I own a Mac laptop, and an emerging trend in the OS X universe is apps that mimic the look, feel, and functionality of iPad apps.
A recent example in the Apple universe is Reeder for Mac, an RSS reader currently under development and currently in public beta. It's an offshoot of the iPad version of Reeder, and takes various design cues from the iPad app. But as programmer Daniel Kennett points out, building an app with touch in mind first and the mouse second can cause some issues. In the case of Reeder, there's very little padding around buttons and toggles in the interface–there's no titlebar for the app, for instance–and some of the controls are relatively small, which can make them hard to hit on, say, a 21-inch iMac's screen.
Daniel's article gets into some user interface design nerdery, but it has some good graphics to illustrate his point, and is worth giving a read.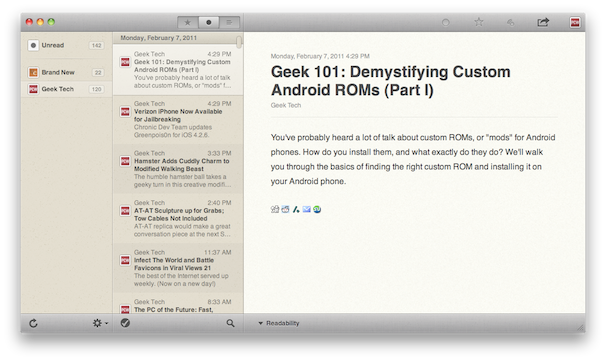 As Daniel put it:
"Just for fun, I opened the iPad Simulator and moved Reeder for Mac over it… Remove the Mac OS X window widgets and that could be a screenshot of a native iPad app.
This is NOT how to make Mac apps, guys."
In other words, just because something works on a touchscreen doesn't necessarily mean it'll translate well to the desktop.
Another prominent example is iPhoto 11, the newest version of Apple's photo-management software, which also borrows heavily from the iPad. This is the template picker you see if you decide to make a book out of some of your photos: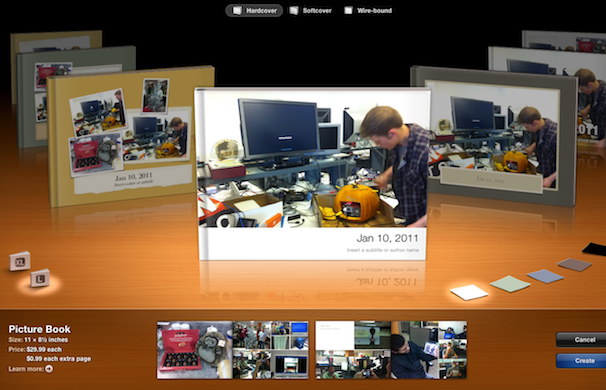 This screen looks a lot like something from an iPad app, and it works a lot like something from an iPad app–so much so that you might be tempted to reach out and try to swipe your screen with your finger. But I found this pane to be considerably more tedious to work with than, the scrolling list of templates that you'd find in prior versions of iPhoto: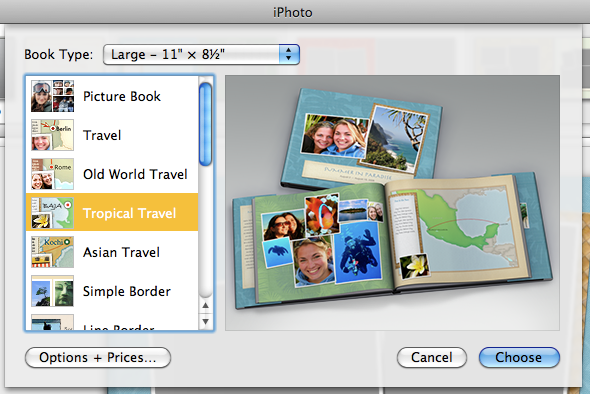 These are the sorts of issues that developers and OS vendors will face going forward. While I expect tablets to have some influence on future versions Windows and Mac OS X, Microsoft and Apple have to be careful to make sure that these new additions don't drive long-time users batty.
Trucks
At the D: All Things Digital conference this past summer, Steve Jobs had this to say about the future of the PC (As reported by our cohorts at Macworld):
"PCs are going to be like trucks. Less people will need them… This transformation is going to make some people uneasy. The PC has taken us a long way."
I own an iPad and a laptop. My iPad is great for some things, such as reading and Web surfing. It's also usable for shooting off a quick e-mail, and it can be used for some content creation (photo editing, for instance). But I'm a writer and editor by trade. I work in Excel spreadsheets on a regular basis. I need my keyboard. I need to be able to see multiple windows on-screen at a time. I need to have no limits on multitasking.
I need a truck.
PCs aren't going away. Windows isn't going away. Mac OS X isn't going away. PCs may not be the first choice for most users in ten years, and they may take a somewhat different form, but the PC is here to stay.
Nick Mediati couldn't imagine tapping this blog post out on an iPhone.
Previously in this series…
Get your GeekTech on: Twitter – Facebook – RSS | Tip us off
When you purchase through links in our articles, we may earn a small commission. This doesn't affect our editorial independence.