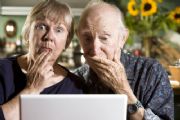 A 27-year-old California man pleaded guilty Wednesday to charges that he tried to coerce a 14-year-old girl into sending him pornographic videos by threatening to publicize sexually explicit pictures of her that he'd dug up.
Starting in December 2008, James Dale Brown used Facebook to contact the girl, who lived out-of-state, demanding that she send him a video of her having sex.
Somehow he'd obtained photos of the girl, some of which were sexually explicit. He said that if she did not send him a video, he would send the pictures to the unidentified victims' underage friends. If she sent the video, he promised to "delete all pictures of her 'from the Internet,'" the U.S. Department of Justice said Wednesday in a statement.
Brown, a United Parcel Service (UPS) worker who used the alias "Bob Lewis" on Facebook, finally carried out his threat on April 18, 2009, sending links to an explicit image of the girl to one of the victim's friends. Five days later, the U.S. Federal Bureau of Investigation raided Brown's Fremont, California, residence. He was arrested on Aug. 26, 2010.
Brown's lawyer, Robert Beles, could not be reached immediately for comment.
Just last month, another California man, George Bronk, admitted to breaking into more than 3,200 e-mail accounts in a hunt for explicit photos of women. He would use Facebook to learn answers to the security questions that Web-based e-mail services use to reset passwords and then use that information to break into his victims' Gmail and Yahoo Mail accounts.
Bronk ultimately convinced one woman to send him even more explicit photographs before he was arrested last year.
It isn't surprising that there are so many of these images in women's e-mail out-boxes and mobile phones, according to Amanda Lenhart, a senior research specialist at the Pew Internet & American Life Project.
According to her, a May 2010 Pew survey found that 6 percent of adults have sent a "suggestive nude or nearly nude photos of themselves to someone else via text messaging," a practice known as "sexting," she said in a January e-mail interview. Amongst 18-to-29 year-olds, that group jumped to 13 percent.
In another survey, Pew found that 15 percent of cell-phone owning teenagers had been sent sexually suggestive photos or videos of someone they know.
Brown could face 30 years in prison on the extortion and child pornography charges. He's set to be sentenced on May 11.
Robert McMillan covers computer security and general technology breaking news for The IDG News Service. Follow Robert on Twitter at @bobmcmillan. Robert's e-mail address is robert_mcmillan@idg.com