Verizon customers in the United States can finally preorder Apple's iPhone 4 today. Demand for the iPhone on Verizon's CDMA network is expected to be high. Some analysts expect Verizon to sell as many as 25 million iPhones in 2011; Apple sold nearly 40 million iPhone 4 devices worldwide during the 2010 financial year. But before you buy the phone, here's what you need to know about today's early round of iPhone 4 preorders from Verizon.
Who can preorder?
Thursday's preorder round is for current Verizon customers only and orders will be fulfilled on a first-come, first-served basis. Verizon says it has a limited supply of CDMA iPhone 4 devices available. It's not clear when this stock might run out, but it's probably best to order ASAP if you want to preorder the Verizon iPhone.
What if I recently bought a new Verizon smartphone?
There are a few options for exchanging a relatively new smartphone, but keep in mind that most returns are subject to a $35 restocking fee.
If you ordered a new smartphone within the last 14 days you can exchange your device for the iPhone 4, no questions asked.
If you are past the 14-day return period, you can still exchange your new smartphone if you upgraded to a new Verizon device between Nov. 26, 2010, and Jan. 10, 2011. All you have to do is return your recently upgraded device and then reactivate the Verizon device you had before your upgrade. You can then sign up for the iPhone 4 at the subsidized price.
If you don't have your old Verizon device, you can buy an iPhone 4 at full price and then get a rebate through Verizon's "Special Upgrade Offer." The end result is that you will only pay the iPhone's subsidized price, but you will have to fork over more money upfront. Check out Verizon's "Special Upgrade Offer" page for full details.
Where can I preorder the phone?
To preorder you can either go to the Apple Store online or to Verizonwireless.com/iphone.
When will non-Verizon customers be able to order the Verizon iPhone?
If you aren't a Verizon customer, you will have to wait until Wednesday, Feb. 9. At that point you can order directly from the Apple Store online for delivery or pickup on Feb. 10. You can also order online from Verizon starting at 3:01 a.m. Eastern on Feb. 9. The Verizon iPhone will be available in Apple and Verizon stores starting Feb. 10.
How much does the phone cost?
Verizon's subsidized pricing is the same as AT&T's. The 16GB version will set you back $200 and the 32GB is going for $300, both phones require a two-year service contract. You can also buy the iPhone 4 at full retail price if you're not eligible for subsidized pricing, or if you want to sign up for a month-to-month service contract rather than a two-year agreement. The full price for the 16GB iPhone 4 from Verizon is $650 and the 32GB is $750.
How do I know if I'm eligible for subsidized pricing?
If you are an existing Verizon Wireless customer, you can check your upgrade eligibility here.
What will the voice and messaging service cost?
You can find Verizon's service plan pricing online, but here are the basics: Voice service costs $40 per month for 450 minutes daytime calling, $60 per month for 900 minutes and $70 per month for unlimited. Verizon's unlimited messaging plan costs $20 per month or you can get 500 messages per month for $10 or 250 per month for $5.
What does data service cost?
Wireless Internet access on the iPhone is mandatory and costs $30 for unlimited data. Keep in mind that unlimited data for the iPhone 4 is a limited time offer.
If you want to use the option to turn your iPhone 4 into a 3G mobile hotspot that can connect up to 5 devices to the Internet via Wi-Fi, you will have to pay an extra $20 per month. You will also be charged a one-time activation fee of $35 if you sign-up for the 3G mobile hotspot option.
Anything else I should know about the mobile hotspot plan?
The hotspot plan allows for 2GB of data per month when using your phone as a mobile Wi-Fi hotspot. Any data usage over that amount will cost you an extra $20 per gigabyte of data. When you use your phone regularly, i.e. not as a hotspot, you still have access to unlimited data. However, when you have the hotspot option turned on all of your data usage is counted against your 2GB hotspot allowance –even data accessed directly on the phone. So make sure you turn off the hotspot option in the iPhone's settings panel when it's not in use.
Should I expect any other hidden fees?
My colleague Jared Newman wondered the same thing. Check out his breakdown of fees you may not be expecting from Verizon.
When will my preorder arrive?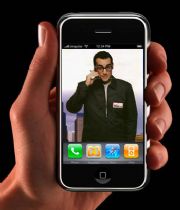 Orders are scheduled to arrive on or before Feb. 10, according to Verizon.
Can I check the status of my order?
Yes. You can check your iPhone 4 order status here through Verizon. It's not clear whether this is for orders made through Verizon only or if Apple Store customers can also check their orders here.
Should I wait for the rumored iPhone 5 or buy this one?
This is a very tough call and the best course of action will be different for everyone. You can find a discussion about waiting for the next iPhone versus getting the iPhone 4 here.
If you are a technophile, it might be worth the wait. Then again, as Macworld's Jason Snell pointed out in his Verizon iPhone 4 review, "if you waited for the technology world to stand still before buying something, you'd never buy anything." Keep in mind that although Apple has introduced a new iPhone every year in June since 2007, there's no guarantee that will happen again. But admittedly it's likely we'll see a fifth iteration of Apple's iPhone at some point this year.
Where can I dump my old phone?
If you want to get rid of your old phone now that you have a shiny new iPhone 4 check out buy-back sites like Gazelle and Nextworth to see what they're offering for your old device. You could also try and sell it yourself on eBay. Just make sure you pay close attention to what you'll be charged in eBay seller's fees.
Connect with Ian Paul (@ianpaul) and Today@PCWorld on Twitter for the latest tech news and analysis.