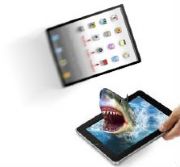 Whenever Apple gets close to releasing a new product, there comes a point when most rumors cease to be interesting and become parodies of themselves. We've now crossed that point for the next-generation iPad.
The iPad 2 rumor mill jumped the shark at a press event for The Daily, a tablet-only newspaper produced by News Corp. and published exclusively on the iPad for now. There, according to Reuters, an "eyewitness" spotted "what appeared to be a working model of the next iPad with a front-facing camera at the top edge of the glass screen."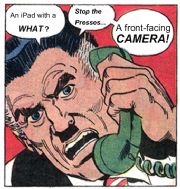 The article doesn't say who exactly spotted the alleged iPad 2, why the eyewitness was granted anonymity or how the device was seen in such detail. Reuters did some due diligence and produced one other morsel: "A source with knowledge of the device confirmed its existence, adding that the final release model could have other features."
Yes, other features. Shocking news!
I mean no disrespect to Reuters. If the front-facing camera rumor were published a few months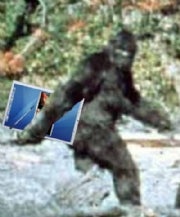 ago, before the appearance of other rumors (from Reuters, even) with the same conclusion, it might've been a big deal. Now it's just noise.
So what happens now that iPad 2 rumors have jumped the shark? More of the same, confirming rumors we've already heard about such as a dual-core processor, a better display and a thinner, lighter build. Expect analysts to state speculation as fact (it's already happening) and keep your eyes open for cases from Chinese suppliers that supposedly reveal new features.
Or don't. Barring some unforeseen revelation about the next iPad's hardware, at this point you might as well stop watching until Steve Jobs (or Tim Cook) brings the device on stage.