Google's tablet-ready mobile OS Android 3.0, Honeycomb, has arrived packed with features such as camera support, improved navigation, graphics and an overhauled Android Market. Android tablets running Honeycomb won't be available for a few weeks yet, but here's a quick FAQ to get your up to speed on the latest developments for Android devices.
Is Honeycomb just for tablets or will phones get it, too?
At launch, Honeycomb will be all about tablets, but Google said it is working to bring Honeycomb to smartphones, too. Basically, expect to see Honeycomb tablets first and news about Honeycomb smartphones at a later date.
When are Honeycomb tablets coming?
The first device to offer Honeycomb, the Motorola Xoom, is scheduled to arrive in late February, but a specific launch date has not been announced.
What are specs for the Xoom?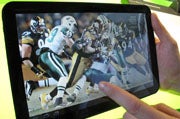 The Motorola Xoom features a 10.1-inch display at 1,280-by-800 resolution, dual-core 1GHz processor, 1GB of RAM, 32GB of on-board storage and SD card slot. Check out Melissa J. Perenson's hands-on look at the Xoom here.
Will Honeycomb have widgets?
Yes. Android's onscreen widgets that let you quickly access data without launching an application have been overhauled for Honeycomb tablets, and can store more data than previous Android versions. The Gmail and Calendar widgets, for example, are scrollable, letting you have a snapshot view of your mail or appointments. You can quickly scroll your video or Google Books collections using Cover Flow-like widgets that show images, such as a book cover, for each item instead of text.
What's the deal with that bar on the bottom?
Honeycomb tablet devices won't have any physical buttons. Instead, navigation will be handled using software buttons located on a system bar at the bottom of the tablet screen. The system bar is similar in some ways to the Windows taskbar. On the right side of the bar is a notifications area for new mail, audio functions, system time, battery life and so on. When a new notification appears it pops up from the bottom bar kind of like a notification in Mac OS X. A Google Talk IM notification, for example, pops up with an image of the person who wants to chat along with their most recent message.
The left side of the system bar has a back button, home button and a recent applications button used to call up apps that are currently running or were recently used.
What's the Action Bar?
The action bar is a customizable menu that applications can place at the top of the screen. It can include common tasks such as compose, star or delete for e-mail.
What are the graphics like?
Google has created a new graphics engine for Honeycomb called RenderScript. Google says it allows for hardware acceleration for 2D and 3D graphics and improved animations and transitions for actions such as page turns in an e-book or scrolling a collection of videos in the YouTube app.
Will I get video chat on Honeycomb?
You bet. Gmail video chat will be available Honeycomb, but will obviously require a Webcam built-in to the tablet. Google says it has also built image stabilization into video chat to make video images smoother. Image stabilization also means video chat takes up less bandwidth, meaning it will be easier to use the feature on a 3G connection, according to Google.
Any interesting security features in Honeycomb?
Engadget uncovered a cool feature that is apparently built in to Honeycomb: password-protected full hard drive encryption. Encrypting your tablet will take up to an hour, according to a screenshot of Honeycomb running on Motorola's Xoom. It's not clear which encryption standard Honeycomb uses, but this is clearly a move to appeal to enterprise users.
What are application fragments?
These are basically multi-pane views for Android applications designed to take advantage of the larger screen space on tablets as well as make apps easy to navigate. Google was showing off its e-mail app, for example, which starts with a list of e-mail folders in one pane and subject line headers in another. Clicking on a message gets rid of the folder view and shows the subject line headers in one pane and the actual message you're reading in the other.
What are the improvements to the Android Market?
Google has finally released a browsable Web-based version of the Android Market that is accessible from any browser. The smartphone-accessible market is still available as well. You can select an application to install on your device using the Web browser and it will be sent wirelessly to your device. You can also use the Web-based Android Market to manage your installed apps in case you need to download them again. PC World has a complete breakdown of the Android Market on the Web here or just jump to the new Android Market here.
What is the browser like?
Android 3.0 will include a few tools from Chrome including tabbed browsing, bookmark sync and incognito mode.
Connect with Ian Paul (@ianpaul) and Today@PCWorld on Twitter for the latest tech news and analysis.