Editor's Note: Given the rise of tablets and smartphones, we've all wondered what the PC of the future will be like–or whether the PC even has a place in the future of computing. With this in mind, we at GeekTech decided to take our best guesses at what the future holds for the PC. First up, James Mulroy.
What does the future of home computing hold for us? Will the PC of the future be small or large? What will it look like–a tablet or a laptop? These are all important questions to ask (well, maybe not that last one). But also ask yourself, what do I want the future PC to hold? Do I want it to be light and transportable, or with lots of screen-space? After all of the great new gadgets and components seen at CES 2011, we can see that the PC of the future may take many forms. But take a moment to read what we think the next five years in computing will bring to your lap or desk.
The Guts: Smaller, Faster, Cheaper
Given the current trends toward small devices that can do almost anything, it's very possible that your future PC will do all its processing on a single chip. System on a chip (SoC) technology is becoming more and more popular in gadgets like smartphones and tablets, so it isn't a stretch to think that it may end up on PCs, especially since Windows 8 will support systems on a chip.
But the future PC will likely also take advantage of CPU-and-graphics-processor packages like the AMD Fusion processor, which has both the CPU and GPU. This means less lag time in communications between the CPU and the GPU. Provided Moore's Law continues to work in our favor and isn't hindered by quantum tunnelling (where particles like electrons jump across thin barriers, causing problems across computer chips), the chips of the future will have over sixteen billion transistors on a single chip–yes, that's 16 followed by nine zeros.
For those out there who need even more speed–like researchers who feel like doing work in their bedroom instead of at the lab–you will be able to take advantage of the insane power of 1000-core processors, which researchers believe will become more and more common in the next few years.
For the mere mortals out there, you will be able to access this insane power with cloud computing. We're just starting to see what cloud computing can offer, so it'll be interesting to see where we stand in a few years.
New Display Tech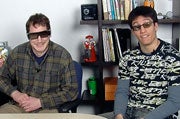 3D is a hot trend in HDTVs and other gadgets, so it seems logical that it would carry over to PCs. The future PC will also feature autostereoscopic 3D displays–that is, you won't have to wear glasses to get the 3D effect. The screen will have true multitouch features unlike most modern day single touch computers.
Form Factor
Future multitouch PCs may also come in different forms. Take for example this three-screen smartphone concept design: You may see three-screen laptops or tablets that fold out whenever you need that extra room (think of a three-screened computer that folds out like a map). You'll be able to drag-and-drop across your multiple screens using the multitouch features (for instance, grab a photo on one screen and pull it to the other with a single drag of the finger). Maybe we'll see something like the BendDesk in the not-too-distant future:
Best of all, these multi-screen devices would be extremely energy efficient, lightweight, and, if advances in display tech are any indication, they could one day be built of thin, space-saving film.
The PC of the future will have more screen space and will take touch features to the limit. The tablet-like form factor will become the dominant portable PC whether it has one screen or three.
Operating Systems
The OS of the future will be robust and will be able to support anything you try to run on it, via either native apps or Web apps, but will also be less complex from the user's standpoint. Many future PCs will feature simpler, memory-sparing open-source OSes such as Android that are compatible with a wide range of programs. Cloud computing will be on the rise, and you will have the option to automatically store your files online and retrieve them anywhere in the world that you have Internet (think Dropbox on steroids).
Windows will still be around, but it won't be nearly as dominant as it is now. It will be much more competitive with Android and other emerging operating systems.
Special Features
Your PC of the future will be able to play Holographic Versatile Disc (HVD), a new standard under development that is substantially more efficient than Blu-Ray and can hold as much as 6TB, although downloadable and streamed media will be much more popular. Additionally, the PC of the future will be better equipped to connect to your TV through the use of the WHDI wireless video standard.
You will also see a huge improvement in PC audio. Your next PC may come with enhanced Dolby surround sound audio technology, a large step up from your standard PC speakers.
On top of a speedy processor, the future PC within the next two years will also come with speedy DDR4 RAM, and within five years it will come with DDR5. It will also come with an awesome wireless headset, cloud storage, and a set of robots (OK, just kidding about that last part, but you never know). You may have to pay extra for the robots, but either way, the PC of the future sure looks bright and colorful.
[Updated 2/7/2010 12:15 PM PST to clean up some minor typographical errors.]
James Mulroy wonders when the PC of the future will think like Cylons.
Like this? You might also enjoy…
Get your GeekTech on: Twitter – Facebook – RSS | Tip us off