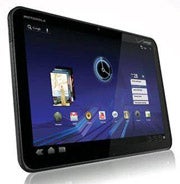 Leaked promotional images indicate that Motorola might price itself out of the tablet market, with an $800 price tag attached to the Xoom Android Honeycomb tablet. Engadget uncovered a Best Buy ad showing the Xoom will be available in stores on February 24, costing $800 before any data contracts. But can the Xoom stand any chance against the impending iPad 2 at such a high price?
Motorola might have to pull a few more strings besides a Super Bowl ad tease if it wants to sell the Xoom at $800. The entry-level price of the iPad is a whole $300 lower, if the leaked promotional material from Engadget is accurate. When comparing to the closest iPad match, the Xoom will still be $70 more expensive that the 32GB 3G iPad ($730). The iPad 2, expected some time this spring, will most likely have the same low entry price (and matching specs), while the older (current) iPad model could also be sold at a discounted price alongside.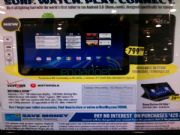 There could also be another deal breaker for the Xoom. According to the fine print in the leaked promo, in order to activate WiFi on the Xoom, you will have to purchase a minimum of one month data subscription with Verizon. The Xoom can work on Wi-Fi and on Verizon's 3G and 4G/LTE network, but does that justify disabling the Wi-Fi capability if you don't want to use 3G? Although it's only one month of data, it will cost you $20 for 1GB of data on Verizon's plans for Xoom's, or up to $80 for 10 GB (same as plans for Samsung Galaxy Tab on Verizon).
Overall, to use basic Wi-Fi connectivity on a Motorola Xoom you would need to pay $800 for the tablet, plus $20 for a month of data and up to $35 in activation fees, bringing the cost of the Xoom at a grand total of $855. That's still $25 more expensive than the top-end 64GB 3G iPad. So, if this is indeed Motorola's pricing scheme for the Xoom, Apple doesn't really have to worry about Android tablet domination any time soon.
Follow Daniel Ionescu and Today @ PCWorld on Twitter