The insanely popular downloadable game Angry Birds has received a free Western-themed update called "Ham 'Em High." The update contains 30 new levels for Android and 15 new levels for iOS (the other half have already been released), ensuring you'll never get any work done ever again.
The update contains new physics — including cowboy hats and sombreros with their own Newton action — and items hanging by ropes that can be cut by your catapulted birds.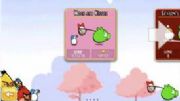 That's not all: reports have it that Angry Birds Seasons will receive a Valentine's Day update with a pink theme and other adorable elements. The V-Day update should hold you off until another update, Angry Birds Rio, comes next month, which is a tie-in to the Rio film, due April 15.
Also in the works is an Angry Birds animated series. Oh, and Angry Birds is coming to the Nintendo 3DS. So it seems that no matter what you do, you're not going to dodge these birds. Good, bad, or indifferent?