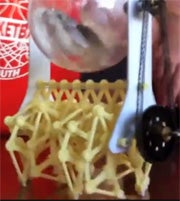 What do you get when you add a hamster called Princess, a plastic ball and some Meccano? You get a hamster-powered Strandbeest, of course!
Created by artist Theo Jansen, Strandbeests are essentially animated skeletal-figures created from plastic tubing that can walk. Most traditional Strandbeest creations are powered by the wind, but a blogger going by the handle "Crabfu" decided to try something different, by building a hamster-powered Strandbeest.
Crabfu's idea came about when he got a miniature Strandbeest kit that was included with a hobby magazine. Crabfu then set to work on assembling his hamster-powered Strandbeest creation. To do this Crabfu built a simple plastic frame, and mounted the hamster ball atop it. The ball was then attached to the Strandbeest thanks to some handy Meccano pieces, resulting in one cuddly yet unique walking Strandbeest.
See it in action–with Princess the Hamster ready to take the modified miniature Strandbeest for a test drive–in this video:
That hamster sure loves to run.
[Crabfu via Hack A Day]
Get your GeekTech on: Twitter – Facebook – RSS | Tip us off | Follow Chris Brandrick