To-do lists can be so isolating. As you sit in front of your computer, staring hopelessly at the screen, choosing the best action to tackle next can seem impossible at times. Now, however, a new breed of productivity sites could help you get back on track by making your action lists social. Good-bye, loneliness; hello, happiness.
Social media has changed almost every aspect of life in the past decade, but until recently productivity software has remained more or less a stand-alone affair. You log on, look at your list, add some stuff, and maybe cross something off. When the list grows debilitatingly long, you seldom have anyone around to help you sort it out. And when you're short on motivation, you have no one to encourage you.
New productivity services could offer a refreshing change from the isolated to-do lists and single-driver project management systems of yore by providing socially driven task management with low overhead and open connectivity to popular social sites such as Facebook and LinkedIn, as well as integration with business tools like Google Apps.
Of course, whether adding a social component actually makes anyone more productive is a matter of debate. I test-drove a handful of the more prominent social productivity tools on the Web. Here's my take.
Jume.in: Facebook-Friendly To-Dos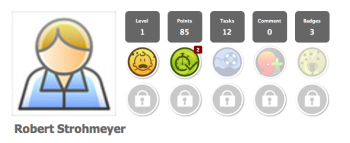 In much the same way Foursquare awards points and badges to users who check in at coffee shops, bars, and restaurants, Jume.in (pronounced "joom") awards you points and badges for doing the stuff you want to do anyway. If you're the competitive sort, this setup can quickly get you over the inertia of a long and seemingly unsortable to-do list and motivate you to start doing things so you can rack up the points.
The Jume.in interface is distinctly Twitter-esque, eschewing the conventional checklist format that has become synonymous with to-do apps in favor of a quirky layout that puts the service's social elements in the foreground. It also lets you create shared tasks with other people in your friends list, which can be a good way to keep a small group on track.
On the downside, Jume's point-based system is far too easy to cheat on: You create the tasks, and you're the only judge of whether a task is completed. So if you want to breeze through a few badges, you could just create tasks that are easy to finish and watch your score skyrocket as badges accumulate effortlessly.
Worse yet, Jume's Facebook and Twitter connectivity can flood your real social networks with constant updates on your productivity exploits–which can be insanely annoying to your friends. In testing Jume for this story, I actually lost one Facebook friend who quickly tired of seeing all my newly created and completed tasks. (You could look at this as a way to test your friendships, but be warned all the same.)
The idea behind Jume is interesting, but the service is not quite ready for the brutal realities of a seriously overburdened work life. Creating new tasks takes too many clicks, and the most essential buttons of the interface are scattered willy-nilly around the page. Jume really needs an interface makeover to simplify task creation and make it easier to monitor what needs to be done next.
Remember the Milk Shares Nicely
As a PCWorld reader, you should be no stranger to Remember the Milk, the free cloud to-do list that works with Android and iOS phones. What you may not know is that RTM also includes a social component for sharing tasks and lists with coworkers, friends, and family members.
To share a list or task with a buddy, add that person to your Remember the Milk contacts list by clicking Contacts, Add Contact, and then entering their e-mail address. They'll get an e-mail inviting them to connect with you on Remember the Milk, and once they confirm the connection you'll be able to assign tasks as shared.
To share a task in RTM, first click the task. In the drop-down menu at the top of the screen, choose Share with… and then click the radio button next to the person's name in the list that appears on the next screen.
To share an entire list, click Settings, Lists. Click the radio button next to the name of the list you want to share, and then click Share with… just as above. Once your list is shared, any items added to it will automatically sync to everyone sharing the list. This feature is especially useful for household lists you share with your family, but it also comes in handy for small workgroups that don't require the bulk of a full project management service.
Next Page: Social Project Management
Huddle Links You In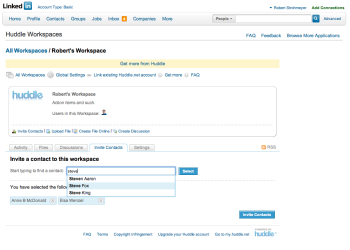 Project management tools are, of course, the ultimate expression of social productivity. And few project management services get quite as social as Huddle. The free version of Huddle lets you share one workspace with your colleagues, giving you a shared calendar, the ability to assign and track tasks, and 100MB of storage space for documents and files. For $25 per month, you can upgrade the storage to 2GB and add conferencing capabilities. (You can find a few higher levels of service beyond that, too.)
Of course, getting everyone on your team to start using yet another Web service can be challenging. But if that service connects to something they're already logging in to–such as LinkedIn–then you're halfway there. Huddle lets you link your account to LinkedIn, and then gives you easy tools for inviting your connections to join your workspaces so that you can assign them duties and check their progress without even going to the Huddle site.
Manymoon Connects to Google Apps
Like Huddle, Manymoon offers robust project management tools that connect to LinkedIn. What it adds to the mix is the ability to share Google Docs and Google Calendar information, plus a Gmail gadget that puts your Manymoon account right into your inbox. For groups that are already using Google Apps to share information, this is a great feature.
A basic Manymoon account is free; premium accounts (ranging from $19 to $49 per month) add cool project reports, custom page designs, and advanced administrative features.
Note: Last week, Salesforce.com acquired Manymoon. Whether the buyout will lead to changes in Manymoon's services is still unclear.
More Social Convergence With Facebook and LinkedIn
While stand-alone productivity services are continuing to expand their connections to other Web tools, the role of larger social sites such as Facebook and LinkedIn in your productivity arsenal will likely grow. These mainstays of social interaction are rapidly becoming business hubs, too, for the simple reason that they make it easy for workers to connect with their colleagues.
In addition to Huddle and Manymoon, Box.net sports a plug-in for LinkedIn. Box.net and a growing selection of business tools can now connect to Facebook, too. Of course, these plug-ins are still in their infancy, and it'll be some time before the average worker heads to Facebook to manage a complex project.
If you're contemplating taking the plunge into the social productivity pool, here are three pieces of useful advice:
1. Go platform-neutral: Unless you're the boss, you'll be hard-pressed to get your whole team logging in to a site they've never seen before. If you can meet your needs with a site like Huddle or Manymoon that connects to a network your colleagues already use, you'll be ahead of the game.
2. Consider your growth: Your team may be small now, but if it's rapidly growing you may end up ditching simple services like Remember the Milk after a short time, which means migrating your tasks and your team. If you think you'll need a robust project management system within a year's time, make the leap now and save headaches down the road.
3. Avoid oversharing: Just because your productivity software can connect to Facebook and Twitter doesn't mean it should. Although your colleagues may be impressed by your constant stream of achievements, most of your personal friends will likely find the updates irritating.