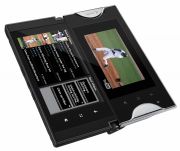 The closest thing Android has had to a dual-screen phone was the Samsung Continuum, which didn't really make much of a splash. Kyocera has done much better with the Echo, but is it good enough to compete in today's smartphone world? Read on to find out.
Hardware
It feels solid and well-built. When folded it's almost the same length/width as the original Motorola Droid, but it's a bit thicker (like an old school Nokia candybar phone). It's also heavier than the already heavy-ish Droid. Personally, I've always preferred the solid metal and I don't mind the extra weight. Folded it you can only see one of the 3.5-inch LCD screens, both which are of roughly the same quality as the Droid, but .2-inches smaller.
When folded out, the Echo is very flat and thin, and the two screens form one 4.7-inch (diagonal) screen that's somewhat square and awkward to hold. Kyocera did a good job of minimizing the gap between the two screens. It's big enough to lose a line or two of text, though, so some scrolling may be required when reading pages spread out over two screens. I can imagine that being annoying if you're using it as an e-book reader. I was worried that I would keep accidentally opening/closing the hinge, but it locks together fairly stably, and that wasn't an issue. It felt strong and it didn't seem like it would break easily.
The 5-megapixel camera seems fairly responsive, though the quality of pictures was difficult to test in the low light of the nightclub where the event was held. It can shoot video at 720p, but the relatively low resolution of the phone's screen won't show that off. You'll only see it once you've moved it to your computer, or another device.
Software
The Echo ships with Froyo (Android 2.2), but they have made some pretty nice tweaks in the phone's software, mostly by way of customizing some standard apps. E-mail, for example, can be set up more like Outlook on your computer, with one screen showing the message list, and the other displaying the highlighted message. The same concept is applied to the Gallery, where one screen is for viewing the pictures while the other displays thumbnails. Also, when typing (in the messaging app, for instance), the entire lower screen becomes the keyboard, which means GIANT keys.
It comes loaded with a couple of specialized apps, such as VueQue and TeleNav. VueQue is essentially a YouTube viewer that uses one screen as the video viewer, while you can select and queue up videos on the other. TeleNav is probably my favorite usage of the double-screen, though. It uses Google Maps APIs and images, so on the lower screen your live map is displayed, while the directions are displayed separately on the top screen.
Of course, you can also use both screens as one big one together, for viewing videos, images, giant maps, or playing certain games. The phone also features Wi-Fi hotspot capabilities, which is very nice indeed.
You can view virtually anything in landscape or in portrait mode, including the homescreen, which auto-rotates. It also has a unique task-switcher which allows you to switch to different tasks on different screens, which makes it multitasking much more impressive. The APIs are going to be publicly available so developers can start taking advantage of this. This may be what makes this phone survive where the Continuum died (developers do not have access to the secondary screen's APIs).
Performance
Unfortunately, it wasn't much of a speed demon. There was noticeable lag when switching between homescreens, between apps, and when opening new apps. It wasn't slow, but it wasn't very fast, either. Simultaneously running two apps on screen (with others in the background) just seems to overtax the 1GHz Snapdragon processor. The 1GB of RAM probably helps, but not enough. Another major blow is that we are now living in a brand new 4G world–and this is a 3G phone. That may hurt it this phone's chances in competing with other upcoming smartphones like the HTC Thunderbolt or the Motorola Droid Bionic.
They take a very innovative approach to battery life. It ships with a second battery and a travel charger that will charge the phone and the extra battery at the same time. I guess that's one way of solving the pesky smartphone battery problem. A phone's screen is typically the biggest battery eater, so with two screens, I imagine the Echo is extra hungry. I was glad to see Kyocera address this.
Conclusion
In my brief time with the phone, I thought it was nice to see a fresh take on maximizing screen size. With most phones going bigger and bigger, this one goes bigger, but in a different way. The software implementation is pretty fantastic and we can expect it to get even better. The downsides are that it's not 4G, there's no front-facing camera, and it probably could have benefitted from a dual-core processor as it was somewhat lacking in the speed department. Its square shape made it a little awkward to hold, but at least its build-quality seemed sturdy, so if (when) you drop it, it may well survive.
It'll be interesting to see how consumers will embrace this dual-screened beast. It's different, and cool in a lot of ways, but right now, speed is king, and one can't help but wonder if this one may be left behind the pack.
When you purchase through links in our articles, we may earn a small commission. This doesn't affect our editorial independence.