The teardown kings at iFixit have discovered that Apple's new Verizon CDMA iPhone has a Qualcomm dual-mode GSM/CDMA chip under the hood. That means, as iFixit notes, "Apple could have supported GSM" networks such as AT&T or T-Mobile with the Verizon iPhone. But for whatever reason Apple decided against this strategy and went CDMA-only with its new version of the iPhone 4. But what about the rumored iPhone 5 expected to debut this summer? Could Apple make the iPhone a GSM-CDMA world phone then?
What iFixit Found
If the Verizon iPhone has a dual-mode chip inside, there must be a way to modify it into a world phone for your trip to Europe this summer right? Sorry to burst your bubble, but no. The first stumbling block for the Verizon iPhone is that it doesn't have a SIM card slot. Without a SIM card there's no way to get access to a GSM network.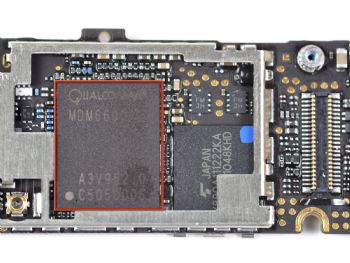 But more importantly, the Verizon iPhone's antenna is designed specifically for CDMA networks supporting only two frequency bands — 800 and 1900MHz. The AT&T/international version of the iPhone, by comparison, supports five frequency bands. Verizon's iPhone is incapable of recognizing most GSM frequencies.
So the Verizon iPhone is not a world phone or even world-phone ready, but what about iPhone 5? Apple clearly has the experience with designing the hardware that can do it, albeit in two different phones.
A world phone would also make it easier (and probably cheaper) to produce just one iPhone model that could handle almost any network.
The one drawback is that a dual-mode GSM/CDMA device would be operating in an increasingly 4G world. In other words, 3G is yesterday's news and the faster so-called 4G networks such as LTE, HSPA+ and WiMax are the future. Verizon is pushing its faster 4G LTE network with new Android phones, and Sprint is pushing forward with its 4G WiMax network. AT&T is also moving forward with plans for an LTE network this year and hopes to be fully operational by 2013. So perhaps what Apple needs isn't a dual-mode 3G phone, but — as PC World's Mark Sullivan suggested in January — a triple-mode GSM/CDMA/LTE phone. Now that would truly be a world iPhone.
Connect with Ian Paul (@ianpaul) and Today@PCWorld on Twitter for the latest tech news and analysis.