Smartphones and tablets seem to be dominating the tech culture these days. For many users–both consumers and business professionals–mobile devices are taking over as a primary computing platform. According to a new report from McAfee, the explosion of mobile gadgets also represents fertile, uncharted territory for malware threats, though.
McAfee just released its McAfee Threats Report for Q4 2010. As always, the report is filled with valuable insight and information. McAfee is a leading security software and services vendor and has the resources–both data and expertise–to analyze trends and break down the essential details IT admins and the general public should be aware of.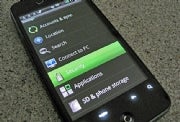 This report contains a number of interesting findings such as new attacks against Adobe vulnerabilities outnumbered those against Microsoft vulnerabilities one hundred to one, or that the Rustock botnet surpassed Cutwail to become the leading botnet threat, or that a record-breaking 20 million new malware variants were detected in 2010–about 55,000 new threats per day.
All of that is very interesting, and I recommend you download and take a look at the full report from McAfee. But, there is one particular finding which stands out from the rest. McAfee reports that new mobile malware threats in 2010 increased by 46 percent over the previous year.
The report states, "As in most crimes it's a matter of opportunity, and cybercriminals currently have a window of opportunity to exploit a variety of mobile platforms. More consumers are using mobile devices and tablets in their daily lives as well as at work. Enterprises must now support more devices than ever before, in effect extending their corporate firewalls and services to places they may not be prepared for."
I spoke with Adam Wosotowsky, principal engineer at McAfee Labs, about the trends identified by McAfee in the latest threat report. He pointed out that many of today's smartphones and tablets are as powerful as desktop PCs were not too long ago–and with dual core processors becoming mainstream and quad core processors on the horizon, that palm-sized gadget in your pocket will become the primary–if not lone–computing platform you use, and a much bigger target for malware and cyber attacks.
PC malware had to go through growing pains to get where it is today. Malware developers have honed their skills, while software vendors have incorporated secure coding practices and better security controls, and security vendors such as McAfee have evolved defenses to guard against those threats. With mobile malware, though, the bad guys already have a mature business model in place and are poised to apply what they have learned in the PC arena to quickly exploit weaknesses in mobile devices.
Smartphones and tablets are the new "Wild West" for malware, and IT admins and users need to recognize the risks and take appropriate steps to protect mobile platforms from attacks and exploits.