With magician David Blaine on hand, Sprint reached into its bag of tricks Monday evening and revealed the Kyocera Echo, an Android smartphone with two touchscreens.
The magic metaphor is certainly fitting for the Echo; although Kyocera's dual-screen concept might seem impressive at a glance, it also risks being a cheap gimmick, or more appropriately, a one-trick pony.
Dual Screens' Unproven Track Record
Dual-screen computing devices have a shady history. Occasionally, you'll hear about them at CES or other trade shows, but then they vanish, joining the scrap heap of unrealized prototypes. MSI and Asus, for example, both showed dual-screen computers at CES 2010, but not at this year's show.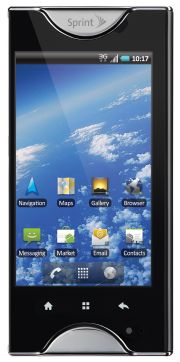 Microsoft didn't even get to the prototype stage with the Courier, a digital journal with an emphasis on productivity. The Courier generated a lot of excitement among techies with occasional leaked photos and videos, but Microsoft officially ruled it out as a commercial product in April 2010.
Even the dual-screen devices that have made it to market are languishing in obscurity. Toshiba's Libretto, for instance, was a "concept PC" with two 7-inch touchscreens. It launched in small batches for $1,100 and up and sold out within days of launch. Now, it's discontinued.
The equally-niche EnTourage eDGe, which has both an E-Ink and LCD display, is still on the market in sizes large and small. Although sales figures aren't available, I can confidently say that the devices haven't broken into the mainstream. I've never seen anyone using one out in the real world.
The one outlier among all these examples is the Nintendo DS, but that's a single-purpose device that flourished because of killer software and strong developer support from the beginning. The Kyocera Echo will have none of those things.
Lessons Learned?
Dual-screen devices are problematic because they require resources that detract from core features. The Libretto was more expensive than two (or three) netbooks duct-taped together, and the eDGe was neither a great Android tablet nor the best e-reader.
Kyocera's Echo may be no different. It's thicker and heavier than Motorola's original Droid, and it ships with a second battery, suggesting that a single battery might not last very long. It's also reportedly sluggish despite 1 GB of RAM and a 1 GHz Snapdragon processor.
The question for Sprint and Kyocera is whether they've created enough compelling uses to override those concerns. Being able to type on a full-screen virtual keyboard, view e-mail Outlook-style, or watch one video while queuing up another might not be enough.