One of the measures of a true geek is just how comfortable they are being identified as, well, a true geek. If you're not only willing but eager to have the world know the geekiness in your heart, the Phosphor E-Ink World Time watch is the timepiece for you.
Phosphor's $150 watch uses the same display technology found in a Kindle. But while the text on your Kindle can get pretty small, the numbers on the Phosphor tend to run really large and blocky. It's a bit like a throwback to the old LED watches of the 70s.
But the use of E-ink also means you can change the look of the Phosphor. You can have black numbers on a white face, or white numbers on a black face. And there are 5 different designs you can choose, from a relatively small display of just the local time, to one that shows the local time and date along with the time in any one of a couple dozen world cities.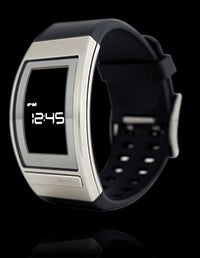 In fact, my main objection to the World Time watch is that it sometimes seems to switch displays on its own. You control the display with a small rocker bar below the face of the watch and it's a little too easy for that to be activated by a tight cuff or an accidental press from some other object. All the sudden, you're looking at the time in Paris instead of Akron.
When I've worn the Phosphor, people often ask me about it. I tell them it's an E-ink watch and get one of two reactions. Some people say, "Yeah, that's really dorky." Others say, "Cool!" If you're in the latter group, and you're not bothered by the people in the former, the World Time watch could be just right for you.
Looking for more ways to announce your geekiness to the world? Check out:
When you purchase through links in our articles, we may earn a small commission. This doesn't affect our editorial independence.