To help defray the cost of a Verizon iPhone, Internet auctioneer eBay has joined a handful of companies trying to help people sell their old smartphones.
eBay has set up a special section of its Website where people can trade in older smartphones with minimal hassle and free shipping as part of its "Instant Sale" program. The auctioneer is offering $200 through February 22 for the iPhone 3GS (all storage capacities), Motorola Droid X, HTC Evo 4G and Samsung Vibrant. The 16 GB iPhone 4 trades for $405.12, and the 32 GB model trades for $511.18. No auctioning skills are required.
But before you take eBay up on the offer, first consider the condition of your phone. If the phone is in "excellent" condition (no scratches, scuffs of dents), you'll get more money by trading through eBay's main Instant Sale site instead of the special Verizon iPhone section.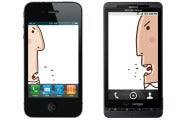 You'll also want to investigate other buyback options, including NextWorth.com, CellforCash.com and Greenphone.com, but from what I've seen, eBay's $200, no-questions-asked option is the best deal available, especially for Android phones that don't hold their value as well on other buyback Websites.
Of course, none of these options will get you as much money as auctioning directly on eBay (a 32 GB iPhone 3GS with minor cosmetic scratches, for instance, just sold for $337), but then you've got to be a good salesperson to maximize your earnings. The whole point of Instant Sale is to give people an easy way to sell their handsets to resellers, who can then auction the devices at a premium.
In any case, there's one more thing to consider: All the phones that eBay is accepting for this promotion are less than a year old, so if you're on a two-year contract, you'll have to pay an early termination fee before getting rid of the phone. This fee will likely outweigh the trade-in value of the phone itself, but it's a small price to pay for the ability to make phone calls.