Verizon's iPhone reportedly suffers from the same antenna problems that plagued AT&T's model, a revelation that should come as no surprise since Apple never fully copped to Antennagate in the first place.
There are a few subtle differences in the GSM and CDMA models, but as you'll notice from Engadget's picture, the dash in the antenna responsible for the original Death Grip is still there. So the reasonable expectation is that the Death Grip would also still be there, but for some reason this didn't quite sink in to some.
Added to the fire is iLounge's newly coined term: the Wi-Fi reception-killing "Death Hug" that occurs when you squeeze the Verizon iPhone with both hands. But, as MG Siegler hilariously notes, the Wi-Fi connection will also drop if you set your iPhone on fire, plunk it in the ocean, or cover it in four feet of concrete.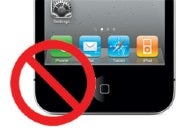 Imagine if Verizon and Apple did fix the iPhone's antenna. Millions of AT&T customers probably would have sued Apple and AT&T for selling them a clearly inferior version of the iPhone 4. Some may even claim this switcheroo caused irreparable emotional damage, since the absurdity threshold for suing Apple is quite low.
My advice: If you want a phone with a superior antenna, don't buy the iPhone 4. Go Android. Or wait until the iPhone 5.