Have you ever been running late to an important business meeting or client presentation only to find yourself stuck in a two-mile traffic jam due to an accident on the highway, or having to reroute around a flooded road? Of course you have. Checking traffic conditions ahead of time can be helpful, but it's even better if you can get real-time updates from those in the best position to know the current conditions–other drivers.
Television and radio news outlets do their best to keep drivers informed of current traffic conditions, but there are only so many "eye in the sky" traffic copters. The truth is, much of the traffic reporting information that these news outlets have comes from actual drivers on the road calling in to report conditions as it is. Why not cut out the middle-man and just share traffic news with each other?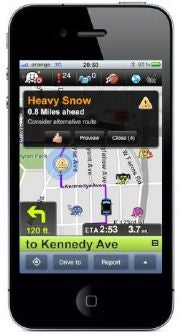 Waze has launched a voice-based hazard reporting feature for its iPhone GPS app. Combining GPS navigation with crowdsourced real-time traffic updates can help iPhone users stay aware of adverse road conditions, avoid delays, and get to their destinations safely and on time.
A press release from Waze explains, "The new feature set allows users to report a wide range of road hazards, weather conditions, and potentially dangerous obstacles with minimal interaction with the app. Once a hazard is spotted, users can record a brief voice-description and share it with others in their area," adding, "Those en route towards the hazard will be warned by their fellow wazer's voice-alert beforehand and be potentially rerouted to avoid any danger. In this manner, waze encourages drivers to "pay it forward" and help others stay alert to road conditions."
"Everyday, drivers are faced with any number of dangers on the road including ice, accidents, and flooding for example. The unpredictable nature of these hazards and lack of immediate road data leaves drivers vulnerable to the conditions ahead," said Noam Bardin, CEO of waze. "The only way this information can be collected and distributed in real-time is by the initiative of group-minded individuals and a means to warn their fellow drivers."
For now, the crowdsourced traffic alerts are available only for the iPhone version of the Waze app, but the Waze press release claims that updates are being developed for the Android, BlackBerry, Symbian, and Windows Mobile versions of the app as well.
There are a lot of frivolous apps and silly uses for the iPhone. But, with tools like this one that have a practical application for daily life and can help people live more productive, efficient lives, the smartphone becomes an invaluable tool.