Society doesn't stand still. Businesses that want to market products and services to potential customers need to understand the culture shift we are going through, and embrace digital and mobile advertising platforms to reach consumers on the go.
A mobile marketing white paper from Augme Technologies titled Upward Mobility: Developing an Effective Mobile Shopper Marketing Strategy contains a number of interesting points, as well as some very relevant statistics that businesses should be aware of in order to understand how to run an effective mobile marketing campaign.
The report describes the changing landscape when it comes to reaching the customers. "Thanks to increasingly sophisticated mobile devices, the consumer has become an ever-moving target that is never more than one click, ring, text or tweet away from entering "shopper mode." But, for better or worse, the shopper that she becomes is savvier and much better informed than her predecessors, due to the growing number of on-the-go tools at her disposal."
Survey data included in the report illustrate the shift in shopping behavior. Light shoppers are defined as those users who might occasionally use a smartphone to look up the address of a store, visit the store Web site or check online prices while shopping, or look for deals at neighborhood stores. Contrast those behaviors with heavy mobile shoppers who resort to these activities and more for virtually all shopping instances.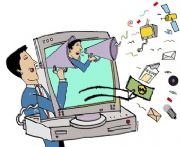 Nearly half of consumers can be classified as "mobile shoppers" of some sort by virtue of their shopping activities. Only ten percent of those mobile shoppers are categorized as "heavy" mobile shoppers, but that ten percent accounts for 80 percent of the total mobile shopping volume. Almost two-thirds of light mobile shoppers are reluctant to use the smartphone more often because they feel its too small or difficult to navigate–but newer smartphones and tablet PCs will change that number.
Location-based marketing using services like Facebook Deals, or Foursquare provide retailers with a means of delivering promotions and discounts to those customers who are nearby and already in shopping mode. That is just one example, though, of new marketing technologies.
Businesses need to be aware of emerging marketing tools, and identify those that have the potential to reach the target audience effectively. This is a nascent, fragmented, and rapidly evolving world, though, so businesses also need to be careful not to invest too heavily in tools or technologies that might be obsolete next month.
As smartphones and tablets become more mainstream, mobile marketing will continue to grow as a requirement for businesses. Hopefully, as the mobile marketing landscape evolves, though, the dust will settle some and it will be easier for both businesses and customers to identify the most effective mobile marketing tools.