HP unveiled details about its TouchPad Wednesday after weeks of rumors about the webOS slate. It won't become available in retail stores until its ships at a yet-to-be announced date this summer. Any advantages the TouchPad might offer to small businesses compared to what the iPad and other competing tablets offer remain to be seen as well, of course.
HP also announced the credit-card size HP Veer phone as well as the HP Pre3, which has a 3.58-inch multitouch screen and dimensions of 2.52 inches x 4.37 inches x 0.63 inches. In many ways, all three devices reflect HP's vision of webOS following its purchase of Palm for $1.2 billion in April.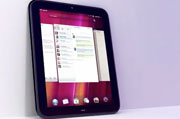 The TouchPad, with dimensions of 7.48 inches by 9.53 inches by .54 inches, represents HP's version of a tablet-size device with webOS, which will obviously compete against the iPad. Unlike the iPad, though, the device supports Adobe Flash Player 10.1 beta in the browser. It also will have access to the thousands of existing WebOS applications available for purchase for Palm Pre smartphones.
A 1.2-GHz Qualcomm Snapdragon dual-CPU powers the tablet, which has a 9.7-inch diagonal touchscreen with an 18-bit, 1024 x 768 resolution. Up to 32GB of internal storage is available.
It will be interesting to see how well the TouchPad's video calling features work. The 1.3-megapixel front-facing Webcam and the 1.2GHz will likely be powerful enough to handle video calls, yet HP did not disclose details about the software interface or how it might compare to the iPad's Skype video-calling applications. It remains to be seen, for example, whether HP will design a specific video-calling app for the TouchPad or whether it will rely on a third-party to supply the application.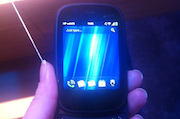 The HP Pre3 serves mainly as the latest version of Palm's Pre platform with up to 16GB of storage capacity and a larger keyboard than previous Pre smart phones. Powered by a 1.4GHz Qualcomm processor, the device's forward-facing camera enables video calling. The Veer is small enough to fit a pants pocket, and offers a slide-out keyboard and multimedia capabilities powered by a Qualcomm MSM7230, 800MHz CPU. A Touchpad command enables URLs, phone calls and SMS messages, and other data to transfer wirelessly between the Touchpad and the HP Pre3.
Some of the more fun yet not necessarily work-related apps the devices offer include a Kindle-like interface for e-books through a partnership with Amazon, movies from Dreamworks, and a WebOS version of Time magazine. But for small and home-office (SOHO) businesses, it remains to be seen how well business-related Pre apps or TouchPad-specific applications will run on the TouchPad, or how useful they will be.
For that matter, I have yet to find an iPad application for improved communications, productivity, or other business needs that a PC does not offer already (although it is fun flipping through comic books or playing games on the iPad). The TouchPad's unknown price point is a huge factor in determining how well the product will fit the needs of small businesses.