Pricing for the new HP TouchPad hasn't been announced, but it looks like Research In Motion's 16GB BlackBerry PlayBook will cost $500. That rumor comes after Twitter user Ben Shipley posted a screenshot that shows what appears to be an internal Office Depot webpage of the PlayBook with a $500 price tag. The page also says the PlayBook is coming to Office Depot stores in Week 17 (presumably of 2011), suggesting a late April launch. Shipley once worked for Office Depot as a Regional Project Specialist, according to his Facebook page. It's not clear whether he is still employed with the big box retailer.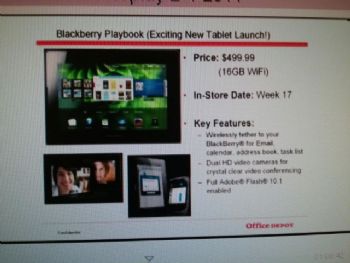 Sane Pricing
The PlayBook's pricing falls in line with previous reports that RIM's first tablet would hover around $500, similar in pricing to Apple's iPad. For that price you get 16GB onboard storage, a 7-inch screen with 1,024-by-600 resolution, a 1GHz dual-core processor, 1GB RAM, 802.11n Wi-Fi, a 3 megapixel front-facing camera and a 5 megapixel rear-facing camera. The iPad's 16GB model comes with a larger 9.7-inch screen but lacks the PlayBook's dual cameras and dual-core processor.
Motorola's Xoom, the first tablet to run Android 3.0 (Honeycomb), may be priced much higher at $800, according to the latest rumors. The Xoom features a 10.1-inch touchscreen with 1,280-by-800 resolution, 1GB RAM, a 1GHz dual-core processor, 32GB on-board storage, a SD card slot, 3G and 802.11n Wi-Fi connectivity, a 5 megapixel rear-facing camera with 720p video capture, and a 2 megapixel front-facing camera for video chat. The comparable iPad model to the Xoom sells for $729. Motorola will not offer a Wi-Fi only version of its tablet at launch.
Despite the impressive specs, Motorola is going to have a tough time competing with the iPad and the PlayBook if both brands are offering a lower-priced $500 model. But Motorola is reportedly bullish on the Xoom's prospects, despite the significant price disadvantage.
If the PlayBook does price itself around $500, it's not clear yet whether the device's smaller screen size will make it less desirable than its iPad counterpart. But if, as expected, the rumored iPad 2 ends up sporting two cameras and manages to retain its current pricing, the PlayBook may be a tough sell, even at $500.
Connect with Ian Paul (@ianpaul) and Today@PCWorld on Twitter for the latest tech news and analysis.