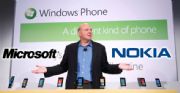 Nokia will adopt Microsoft's Windows Phone 7 as its primary smartphone OS, and partner with Microsoft in areas including mobile mapping, advertising and app development, the companies announced Friday.
(More to follow.)
UPDATE – Follow this link to read the complete report.
Note: When you purchase something after clicking links in our articles, we may earn a small commission. Read our affiliate link policy for more details.