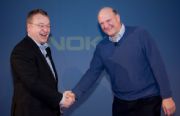 Microsoft and Nokia on Friday announced an alliance that pairs the world's largest phone maker with the software giant in a marriage of convenience as the two combine forces to compete more effectively again Apple and Google in the fight for smartphone dominance.
Nokia says it will build high-end smartphones based on the new Windows Phone 7 mobile operating system from Microsoft.
The news comes just days after Nokia's CEO admitted defeat in the face of Apple iOS and Google Android in a leaked memo to employees, the struggling world leader in mobile phones unveiled a new strategy to bring Nokia to its former smartphone glory.
At a press event Stephen Elop (pictured left), a former Microsoft executive, took to the stage in London with Microsoft CEO Steve Ballmer (pictured right) saying: "Nokia is at a critical juncture, where significant change is necessary and inevitable in our journey forward."
Why Nokia Didn't Go For Android
Elop suggested that there are too many phone manufacturers using Android for their flagship devices (Motorola, Samsung, LG, HTC, to name a few), so Nokia would not be able to differentiate itself enough with its offerings. For more than a year Nokia has been rumored to adopt Android for its smartphones, instead of the aging Symbian OS or the slow-to-develop MeeGo Intel joint venture. Nokia has repeatedly denied these rumors.
Nokia Goes Windows Mobile
In a press release Nokia said it would adopt Windows Phone as its "principal smartphone strategy," hoping bring Windows Phone to a larger range of price points, market segments, and geographies. Nokia and Microsoft would also collaborate in marketing the new devices, while Microsoft's search engine Bing would power Nokia's search services.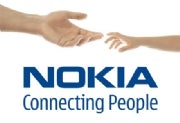 Nokia will also integrate its Maps software with Microsoft's mapping services. For example, Maps will be integrated with Microsoft's Bing search engine and adCenter advertising platform. Nokia would leverage its vast operator billing agreements to allow purchase of Nokia Windows Phone services in countries where credit card use is low. Nokia's app store will also be merged with Microsoft's app store, the company says.
Nokia did not give specific dates of when its first Windows Phone 7 smartphones would arrive, only saying that there will be more news in the "next weeks and months." Meanwhile, HTC, Samsung, LG and Dell have available devices running Windows Phone 7 software.
MeeGo Goes, Jobs Go Too
Nokia also said that its OS collaboration with Intel called MeeGo would become a long-term open-source project, or, in other words, will take a back seat (perhaps a tablet version), along with Symbian, which would be used on mid-range Nokia phones.
In another big shake-up, Nokia will also reshuffle its divisions, in a new company structure, which features two distinct business units: Smart Devices and Mobile Phones. Smart Devices will include Windows Phone, Symbian and MeeGo devices, while Mobile Phones will concentrate on Nokia's feature and lower-end phones. Unsurprisingly, Reuters also reports that Nokia will cut a "substantial" number of jobs in its homeland Finland and elsewhere.
Follow Daniel Ionescu and Today @ PCWorld on Twitter