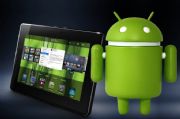 In the battle for tablet dominance Research in Motion has a wildcard up its sleeve. RIM's tablet, the Blackberry Playbook, can run Android apps designed originally for tablets that run the Android mobile operating system. This is according to reports from Bloomberg that cite three unnamed sources. RIM has not confirmed the report.
The ability to run Android apps would give loyal RIM users the best of both worlds. On one hand they could stick with the trusted RIM ecosystem features, apps, and enterprise services. On the other hand RIM would be able to support the nearly 120,000 apps in the Android Marketplace broadening the Playbook's appeal beyond the office.
The Android Market would make up for the Blackberry Playbook's app deficiencies. The downside for RIM is it could deter app developers from making apps specifically for the RIM Playbook. RIM's Playbook tablet is rumored to be priced at $500 and goes on sale in late April, according to unconfirmed reports.
Rumors Get Louder
Android app support in the Playbook has been rumored since December, when Gleacher & Company analyst Mark McKechnie floated the idea, albeit with some skepticism. Boy Genius Report revived the rumor in late January, reporting that RIM was "very much considering" the Dalvik virtual machine for its Java environment. Because this is the same virtual machine Google uses for Android, BGR speculated that RIM could come to some agreement with Google for Android app support.
Bloomberg's report says RIM will not be using Dalvik virtual machine, due to concerns over a patent dispute between Google and Oracle. Instead, RIM is reportedly developing its own way to support Android apps.
Playbook vs HP Touchpad: Advantage RIM
If the rumors hold true, Android app support could be the one feature that boosts RIM over other nascent tablet operating systems, such as HP's WebOS and even Android itself. The Playbook's gesture-based interface impressed me at CES. So did its approach to multitasking, which never suspends background apps and also lets the user see what's happening in multiple apps at once. The rumored $500 price point is also encouraging.
Feeding the Android Enemy
But my concern has always been the Playbook's approach to apps, which officially will be a combination of Adobe AIR and Web applications. The company is building a tablet platform from the ground up, and attracting native app development won't be easy. Android provides an easy shortcut that may even benefit Google. (After all, Google would theoretically collect advertising and sales revenue while also seeing its ecosystem grow.)
Android apps may not be the ideal long-term solution for RIM — the company would be hampering its own chances at building an ecosystem — but would be the best way to get the Playbook off the ground.