Nokia's partnership with Microsoft to launch Windows Phone 7 smartphones could deliver a fatal blow to the company, as it struggles in a market where Apple's iOS and Google's Android have the most leverage.
The Finnish company, which is still the global phone leader, is going to go through a major shake-up. Thousands of jobs are being lost and a new mobile strategy is being implemented, Nokia's CEO (a former Microsoft exec) announced Friday.
Despite Nokia's optimism that it can regain lost market share in the smartphone arena, there are many reasons why the partnership with Microsoft could be Nokia's suicide note. Nokia is pinning all of its hopes on Microsoft, which has thus far been unable to beat iOS or Android with its Windows Phone 7 platform.
Nokia is keeping the ageing Symbian, and still working on the mysterious MeeGo OS, but the company said that its main smartphone range will run on Windows Phone 7, whenever it will arrive (Nokia did not give a clear indication of when these devices will be launched).
Is this a wise decision for Nokia, considering many phone manufacturers have tied in with Microsoft with little success? Horace Dediu compiled a handy list of Microsoft mobile collaborations (like LG, Motorola, Palm and Verizon) that proved to be duds.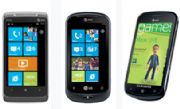 Microsoft's Windows Phone 7 mobile OS launched to mixed reviews late last year. Though the interface is fresh and engaging, many features smartphone owners take for granted are missing: no cut and paste, no unified inbox, no folders, no true multitasking (Microsoft says it will address these issues in an update this year). Additionally, there's a relatively puny number of apps for the platform (in the thousands), compared to iOS (over 250,000) and Android (over 100,000).
Of course, Nokia is not the only phone manufacturer to produce Windows Phone 7 devices. HTC, Dell, LG and Samsung are already selling Windows Phone 7 devices and have not reported any runaway successes with these devices so far. If Nokia has enough leverage with Microsoft to adapt the OS to its liking–and differentiate itself from other manufacturers–this new partnership could prove a winning move. But that's a risky bet.
Would you by a Nokia-branded Windows Phone 7 smartphone? Sound off in the comments.
Follow Daniel Ionescu and Today @ PCWorld on Twitter