There are millions of fish in the sea and, it seems, nearly as many online dating sites. But few have captured users' hearts quite the way OkCupid has. Launched in 2004 by a quartet of Harvard mathematicians, OkCupid has attracted more than 7 million users thanks to its low-cost, social-media-savvy, statistically driven approach to dating.
Unlike most dating sites, OkCupid lets users set up profiles and contact other members without having to pay fees. (A $10-per-month "A List" version lets members cruise ad-free profiles and access additional features.) Members can set up their own blogs, take quizzes, and compose questions for other users to answer. The company's popular blog, OkTrends, mines site data for trends and offers tongue-in-cheek relationship advice.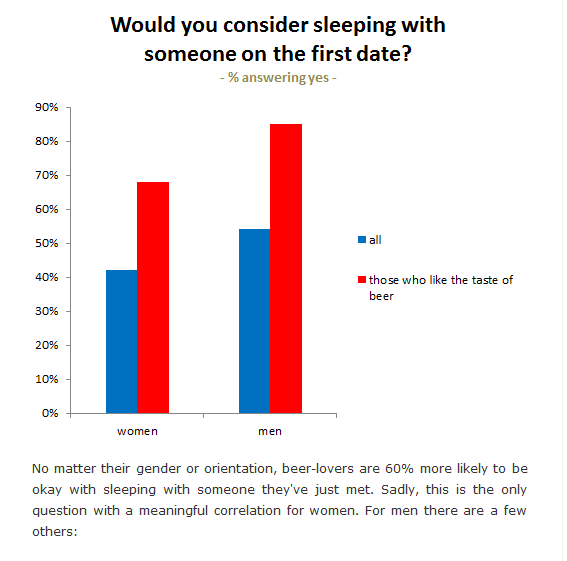 As a result, OkCupid has garnered a younger, more technologically plugged-in audience than conventional dating sites. But geeks aren't the only ones attracted to OkCupid. Internet dating giant Match.com was so smitten that it bought the site for $50 million earlier this month. That transaction has some OkCupid users a little worried.
Jesse W., a graduate student in Southern California who's been active on OkCupid since shortly after it launched, says "my heart was broken when I heard the news. I immediately posted about it on Facebook and called and texted my friends, who sent me their condolences. I won't advocate for the bully of online dating like I did when OkCupid's owners cared about its members."
OkCupid's fans were not reassured by the immediate disappearance of an OkTrends blog entry from last April (you can find a cached copy here). Titled "Why you should never pay for online dating," the blog post by OkCupid cofounder Christian Rudder accused for-pay dating sites eHarmony and Match.com of misleading consumers with statistics that don't accurately represent their success rates.
OkCupid's CEO, Sam Yagan, says that he decided to remove the blog post on his own, deeming it to contain inaccurate assumptions about the other sites' data. "It was the common sense thing to do," he says. He also maintains that OkCupid will continue to operate separately from Match.com and be free for most users.
The question then becomes, what happens to the trove of personal data that OkCupid has amassed?
Whose Data Is It, Anyway?
Not surprisingly for a site founded by math geeks, OkCupid is extremely data driven.
The site's OkTrends blog employs sophisticated statistical analysis to offer advice on topics like how guys can tell whether their odds of scoring on a first date are better or worse than average (ask her if she likes the taste of beer), which digital cameras make people look the hottest (Panasonic's Micro4/3s), and what the biggest lies told by online daters are (how much money they make and how tall they are).
As on some competing sites, data is what feeds the algorithms that OkCupid uses to suggest good matches. Last June, for example, the site introduced a feature making it possible for people who are rated attractive by other members to receive suggestions only for similarly attractive members.
A lot of this data comes from aggregating clickstreams on the site, measuring which kinds of profiles or pictures elicit the greatest number of responses. Some of it also comes from OkCupid's unique Questions feature. While nearly all dating sites employ some kind of questionnaire–and some, like eHarmony's, are notoriously extensive–few can match the depth of personal information that OkCupid members reveal via their answers.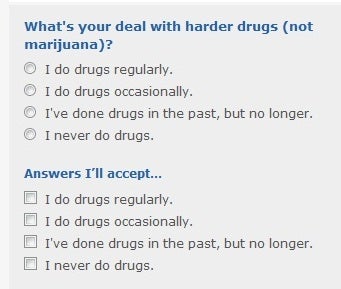 Largely created by the members themselves, the questions range from the mundane ("How do you feel about kids?") to queries about religion, politics, sexual practices, drug use, STDs, and more. For example: "What's your relationship with marijuana?" and "Would you rather a) be tied up during sex, b) do the tying, or c) avoid bondage altogether?"
Though you can mark your answers as private and thereby make them inaccessible to anyone else, by default they are public. When you view another member's profile, you can see which public questions they've answered and how their responses compare to yours. You can also change your answers later, make public answers private, or delete them entirely.
Answering publicly is what helps you find good matches, says Katherine L., who joined OkCupid a year ago.
"Whatever your 'thing' or 'kink' is, you want to find people who can enjoy it with you," she says. "It really is an awesome tool for finding a huge diversity of people, from the fundamentally religious to the really strange."
Now all of that data is in the hands of Match.com's parent company, InterActive Corp (IAC). In addition to Match.com, IAC owns more than 50 Web properties, including such popular sites as Ask.com, The Daily Beast, College Humor, and City Search. It also owns Mindspark, which markets a range of browser toolbars, cursors, emoticons, screensavers, avatars, and online sweepstakes sites.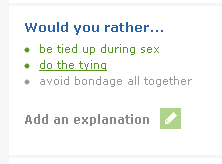 According to Match.com's privacy policy, the company reserves the right to share personally identifiable information with "other IAC businesses" and "other businesses with which we partner or which we carefully select to offer you products, services, and promotions through our website or offline." Users can opt out of receiving promotional e-mail and phone calls via their account settings.
However, Yagan insists that OkCupid's privacy policy–which limits the amount of data it shares with third parties–will continue to govern the data that the site collects.
"We are not planning to share any personally identifiable information with anyone," he says. "Just because we were acquired doesn't mean we're handing over any user data. Can I sign in blood and tell you that our privacy terms will not change for all of eternity? No. Can I tell you we have no plans to do anything with any of that data? Absolutely."
Match.com declined our request for an interview, but offered the following statement via a spokesperson: "Post-acquisition, the OkCupid privacy policy will continue to apply to OkCupid user data, just as it did pre-acquisition. At this time, we have no current plans to change the policy."
As any Facebook user can tell you, however, privacy policies are hardly written in stone.
"The fatal flaw in privacy policies is the fact that they can be changed at any time," says Paul Stephens, director of policy and advocacy for the Privacy Rights Clearinghouse. "If there's anyone who has concerns about information they've shared with a site, they'd be well advised to remove or change that information while they still have the opportunity."
Breaking Up Is Hard to Do
Most OkCupid users contacted for this story said that they would consider leaving the site if it mined their personal data for marketing purposes. Others like Nikkie H. seemed resigned to the risks of sharing personal information online.
"I look at Facebook and how the online advertisers seem to know everything about me, given how they've customized the ads [and] I've almost become desensitized to it all," she says. "My way of thinking is, you should never assume anything you say online will be private even if they say it will be. It's just like you should never assume telling your best friend a secret will stay a secret. More than likely they have shared your secret to someone else within two hours."
Nicole G., a former user of Match.com who compares it to "a business school barbecue," was less sanguine.
"As soon as I heard the news, I e-mailed my boyfriend of three months, whom I met on OkC," she says. "We've had some ups and downs lately. My e-mail: 'Well, guess we should definitely stay together now, because Match.com just bought OkCupid.' "
PCWorld contributing editor Dan Tynan would never lie about his height. Okay, well once maybe. Enjoy a walk on the snide side at his humor site eSarcasm (Geek Humor Gone Wild) or follow him on Twitter: @Tynan_on_tech.