I'll say this up front: Hewlett-Packard is no Apple. The company has neither the fanbase nor the reputation for creating lust-inducing products that appeal to the masses with the same polish and veneer of Apple's repertoire. And yet, with its newly unveiled WebOS strategy, HP is clearly on the path toward doing just that.
In recent years HP has upped its attention to usability, with the goal of providing products aimed at mainstream consumers. Palm–the company HP acquired last year in a deal that set the stage for the swath of WebOS announcements–has its own long history of providing top-notch interfaces that create fans and devotees, but it has struggled to remain relevant in a market dominated by Apple's iPhone and Google's Android army of handsets.
HP's far-reaching, just-introduced WebOS strategy underscores the point that HP has an overall vision for its WebOS products. In representatives' remarks during a marathon launch event, HP explained how WebOS products could interact, and it gave a framework (albeit one short on details) for how it might implement that vision.
That vision is missing from many of the me-too competitors throwing tablets out into the marketplace.
HP, like Apple, has the advantage of making devices and the OS that runs them. And as with Apple gatherings, at HP's event we saw clear demonstrations of capabilities (even though some features were not yet enabled and, infamously, no one but HP's own demonstrators could actually get their hands on the TouchPad tablet).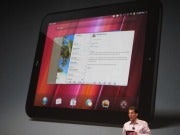 In fact, HP's splashy event reeked of showmanship–complete with a crowd seeded by guests who'd cheer at Jon Rubinstein's words, and celebrity name-dropping. But what the event also illustrated was that HP understood just what it needed to show to differentiate its tablet in an increasingly crowded landscape.
By comparison, at other recent events (Google's Android 3.0 "Honeycomb" launch, RIM's showing of its PlayBook at a developer's roundtable) companies seemed to lose sight of the prize: a clear demonstration of what each tablet and its software could do for consumers. That doesn't necessarily mean that Honeycomb tablets and the PlayBook won't be solid consumer products, but you have to wonder: If the companies couldn't focus on the consumer experience during their product introductions, how will the final devices fare when they roll out to the masses?
WebOS: A Cross-Platform Strategy
HP's WebOS had the advantage of already being primed for Web-connected functionality, and the company had to do little tweaking to optimize it for tablets. HP says that it altered notifications, the mail view, and the photos view, specifically, but little else within the core software changed in the jump from handset to tablet. At the launch event, HP did not announce a new name or version number for the WebOS variant loaded on the tablet, beyond saying that it would be a 2.x version. The company also declined to focus on the OS changes, preferring instead to showcase how the OS worked for the user and how it delivered and presented information differently than competing tablet OSs do.
When asked about the handful of apps (some 6000) already available for WebOS, HP officials indicated that the programs should be able to scale and function on the tablet without issue, but that's something they're still vetting. It's a fair answer, given that the TouchPad isn't shipping anytime soon.
What struck me most about HP's WebOS strategy was its simplicity. Everything the company showed just worked (well, the nifty touch-to-share was slow to transmit in the demos, but it did work eventually), and demonstrations focused on how WebOS's design could streamline everyday tasks.
Exactly how fast the app ecosystem will ramp up is a significant unanswered question. At this week's event, HP trotted out Time Inc. in support for its platform–but just last week, a Time rep stood at a modest station in Google's HQ, showing off an impressive Sports Illustrated app on Android 3.0.
Has HP done enough to compete with Apple, Android, and RIM? Perhaps. A lot remains unknown about the TouchPad: Battery life (anticipated to be "all day") and price are the big outstanding issues for now, outside of the question of who's developing WebOS apps. As for the hardware, the TouchPad's specs seem good but not mind-blowing, especially given that the tablet is weighing in at 1.6 pounds–heavier than the current first-generation iPad.
Where HP impresses is in its WebOS software. The interactivity within the OS, not to mention real-time cloud syncing among devices, is a real boon for a connected device like the TouchPad. The more I see of the coming deluge of tablets, the more convinced I am that the battle for dominance in the burgeoning tablet market will be fierce. And the battle won't be just about sleek hardware. Yes, in the early days, the physical design of these plastic slabs–er, tablets–will play a role. But potentially more important will be the aesthetics and fluidity of both the operating system and the apps.