Mobile World Congress hasn't even started, but the next generation of super phones are already being unveiled. Samsung showed off its latest, the Galaxy S II, at its flashy Unpacked event in Barcelona. The Galaxy S II sports a 4.3-inch Super AMOLED Plus display, a dual-core processor, and a whole new user interface.
The first thing I noticed when I picked up the Galaxy S II is how thin and light it is. It feels pretty good in hand too; less plasticky that a few of the last-generation Galaxy S phones. The phone is pretty attractive too with a minimalist, slick design.
In Video: First Look at Samsung's Galaxy S II
The display is absolutely gorgeous: Colors look bright, details are crisp, and the viewing angles seem pretty good. It sports Samsung's Super AMOLED Plus display technology, which we first saw at CES. According to Samsung, Super AMOLED Plus displays have an increased number of sub-pixels by 50 percent and perform even better in bright light than the first-gen Super AMOLED displays. With a 4.3-inch display, the newest Galaxy is 0.3 inches larger in screen size than the older gen phones.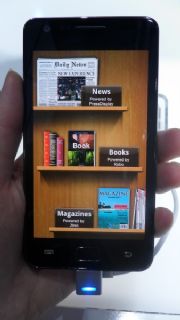 At CES we saw an onslaught of 4G dual-processor phones so it is no surprise that the Galaxy S II has both. I'm also pleased ships with the latest Android 2.3 operating system (also known as Gingerbread). The phone seemed pretty snappy in my brief hands-on tests and video ran flawlessly.
It also sports an 8-megapixel camera as well as a front-facing camera for video calls. I tested the camera out on the floor and photos looked pretty good-at least on the phone's display. The shutter speed on the camera was fast too.
The Galaxy S II has a revamped user interface with an all new Game and Reading Hubs that will be joining the Social and Media Hubs. I really wanted to test out the Game Hub and was disappointed when I couldn't connect to it. I tried on a few demo phones, but no dice. Looks like it isn't ready for prime time yet.
There will be a separate U.S.-specific event tomorrow so hopefully we'll find out U.S. availability and pricing. Samsung delivered its first-generation Galaxy S phones to every U.S. carrier so it is possible that they will do this again with the Galaxy S II. Stay tuned for a full hands-on look at the Galaxy S and more hot phone news out of Barcelona at the 2011 Mobile World Congress!