Another day, another dual-core Android Honeycomb tablet. LG unveiled the latest Android-based tablet to hit Mobile World Congress 2011, the LG Optimus Pad.
I've never been a huge fan of tablets simply because the ones I've used have felt slightly awkward. The 7-inch Galaxy Tab is too small for my liking, while handling the 10.1-inch iPad always makes me feel a bit nervous, as if I could drop it. LG has hit a sweet spot with 8.9-inches: the Optimus Tab is a comfortable size and easy to handle.
The Optimus Pad is unique from other tablets, however, as it has an 8.9-inch display rather than a 10.1-incher like the Motorola Xoom and the Samsung Galaxy Tab 10.1.
In Video: Hands On With the LG Optimus PAD
Another standout feature is the capability to record video in 3D. The Optimus Pad has a dual-lens 3D camera as well as an HDMI port so you can view 3D content on your 3D TV — that is, if you're rolling in dough and own a 3D TV. I couldn't test this feature on the show floor, unfortunately, as LG didn't have one hooked up to a 3D TV. The Optimus Pad also provides 1080p Full HD decoding so you can transfer high-quality video from your Pad to your TV without any picture quality loss.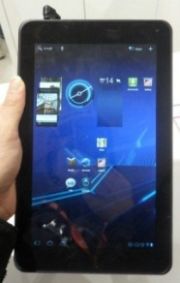 So which Honeycomb tablet appeals to you the most: Motorola Xoom, Samsung Galaxy Tab 10.1 or the LG Optimus Pad? Does 3D video capture put LG ahead of the pack? Sound off in the comments below.