Since its launch, the Apple iPad has defied criticism and claims that it is a mere consumer toy unsuited for legitimate business. Companies of all sizes are embracing–or at least considering embracing–the Apple tablet for a variety of roles. Now, the iPad can empower help desk personnel to be more efficient with the Zendesk for iPad app.
Apple claims that 80 percent of Fortune 100 companies are either testing or deploying the iPad right now, and Deloitte forecasts that a quarter of the tens of millions of tablets predicted to be sold in 2011 will be purchased by corporations. Companies that want more effective help desks now have one more reason to jump on the iPad bandwagon.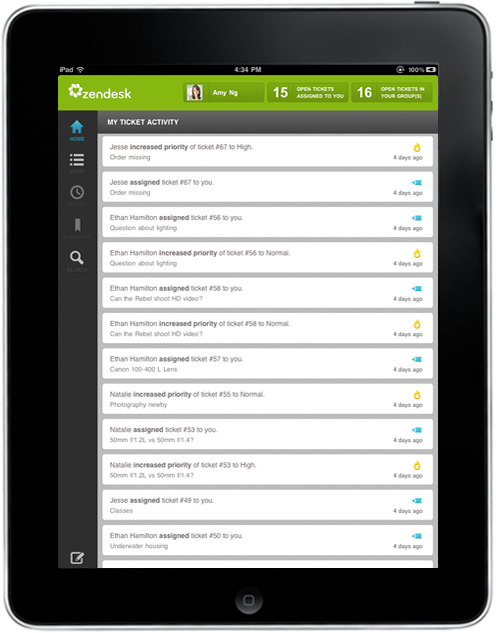 "The iPad is the perfect platform for customer service. It's portable, easy to use and fun," said Zack Urlocker, chief operating officer at Zendesk. "We built the most beautifully simple help desk application ever, so it's a perfect fit for iPad. Now support agents can work anywhere instead of being chained to a desk. They are going to love Zendesk for iPad, and that means better service for their customers."
The iPad app joins the other Zendesk options available for iPhone, Android, and BlackBerry, and compliments the Web-based help desk solution to enable help desk workers to stay connected and engaged with help desk traffic and workflow while roaming untethered to manage and respond to help desk inquiries.
The app itself is free, but obviously the app only has value for organizations that rely on Zendesk to manage help desk workflow. According to the Zendesk press release, the iPad app has some tricks up its sleeve that the other mobile apps are lacking. "Zendesk for iPad also includes new exclusive features. Within the mobile help desk app, you can view a real-time list of the tickets assigned to you in order to more easily stay on top of all relevant customer requests. Support agents can also easily bookmark a ticket to respond to it later, or use it for future reference."
While this release of the Zendesk mobile app is iPad-specific, it is another indicator of how far tablets have come. In less than a year since the launch of the iPad, the tablet has established itself as a viable mobile computing platform at least as capable as netbooks or notebooks–and in many scenarios uniquely superior.
With the Motorola Xoom, BlackBerry PlayBook, HP TouchPad, and other iPad rivals on the horizon, IT departments will have even more options to choose from, and the tablet will continue to gain prominence as a mobile computing platform in business.