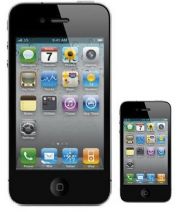 For a tech company known for selling premium gear at premium prices, Apple has made some peculiar–and welcome–moves lately. If new rumors of a cheaper and smaller iPhone are true, they're yet another indication that Cupertino has embraced a cost-cutting religion of sorts, one likely intended to ward off the Google Android juggernaut and build market share at the expense of short-term profits.
Here are three recent examples of Apple's newfound focus on competitive pricing:
1) iPad debuts at $499. When Apple debuted its touch tablet a year ago, nobody really knew what consumers would be willing to pay for a third mobile device that, feature-wise, fell somewhere between a smartphone and laptop/desktop. The iPad's $500-to-$830 price range now seems quite competitive, particularly considering new Android tablets such as the Motorola Xoom will sell in the $800 range. Of course, it's unclear whether the next-generation iPad will maintain its predecessor's pricing structure, or cost more as new features (e.g. cameras) are added.
2) Apple TV at $99. The set-top box, which cost $229 when it debuted in early 2007, underwent radical price-reduction surgery in September 2010 when Apple released a much-smaller model for $99. The diskless, more affordable Apple TV was clearly a response to market forces, where simpler media streamers like the Roku Player were selling well below the sub-$100 price range. Rather than add features to the original Apple TV and retain its premium pricing, Apple chose to duke it out with Roku for mainstream customers.
3) iPhone 3GS at $49. Sure, older-generation tech always costs less, but January's super-aggressive price cut for the 8GB 3GS–from $99 to $49–was a bold more for Apple, one no doubt designed to boost Cupertino's smartphone market share by making the iPhone accessible to a larger consumer base. And even if the 3GS is put out to pasture soon, Apple is showing it's serious about slowing the encroachment of Android devices, particularly at the low end of the mobile market.
OK, some of you will point out that the Mac's premium pricing doesn't exactly fit my thesis that Apple has found low-price religion. But when you consider that Mac sales in Apple's first quarter rose 23 percent year over year, cost-cutting in the personal computer market can wait.
Contact Jeff Bertolucci via Twitter (@jbertolucci) or at jbertolucci.blogspot.com.