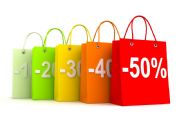 On a recent weekday, my morning e-mail included an interesting offer to take 30 percent off the bill for dinner at Epic Roasthouse, a prestigious and pricey steak house near the foot of the San Francisco Bay Bridge.
Other deals in my mailbox that day included an $8 coupon for $20 worth of imported sweets at an upscale local mom-and-pop candy store; 50 percent off the usual price for a class on using handguns, and similar or even greater reductions for handbags, lingerie, and bed linens from A-list designers.
Although messages promoting sales for major retailers are no strangers to my inbox (and probably your own inbox), these time-limited deep-discount offers for luxury goods and services represent two relatively new types of e-commerce services: localized group deals and flash sales. The former, which you can find at sites like Groupon and Living Social, typically covers restaurants, activities, and services in specific cities; the latter, available at sites such as Gilt Groupe, HauteLook, and Rue La La, offers designer products.
Spawned by the hard economic times of the past few years, these sites can deliver great deals to passionate shoppers who are willing to keep a close eye on their e-mail and pounce when they see something they like.
Group Deals and Flash Sales: The Differences
Both types of sites require users to register to gain access to deep discounts on merchandise and services from an ever-changing list of vendors. Deals are available only for a limited amount of time–a day in the case of group discounts, and a few days for merchandise (or until the items sell out). Most of these sites send out daily e-mail alerts with links to current offers, and you must pay immediately for the coupon or merchandise, too. But you'll find some fundamental differences between group-discount and flash-sale sites.
Group deals are specific to a city; you can look at offers in multiple markets. Once in a while a vendor with national distribution will offer its deal in multiple markets, but the site will typically ask you where you live when you sign up, after which it will alert you to deals in your home area. Even Facebook is testing a Groupon-like feature.
These offers tend to come from small (often mom-and-pop) businesses that want to expand their clientele but can't afford traditional mass-media marketing campaigns. For these businesses, the income they forgo when a coupon holder cashes in is a cost-effective way of using the marketing dollars they do have–the offer has brought in a customer. (See "Groupon Nightmares (and How to Avoid Them)" for a look at the impact such offers can have on a business.)
While many of these customers may be returning patrons, inevitably at least some will be new–a calculation that is part of Groupon's sales pitch. Groupon says that merchants can look at the subsidies that go to returning customers as a sort of loyalty program.
What to Look Out For
Even though coupons purchased on group-deal sites do have an expiration date (always check for the date before buying), Groupon says that it isn't in a merchant's interest to work on too short a deadline: People who buy into the deal and can't get in are unlikely to become repeat visitors.
The Groupons I've bought for restaurants are typically good for at least six months, and if you don't use a Groupon before the deadline, the merchant is still obligated to honor it for the original purchase price–in other words, if you paid $10 for a Groupon worth $20, the merchant must subtract $10 from your bill if you present the Groupon after its expiration date. (This policy is dictated by laws on gift cards in some states, although Groupon says that courts haven't determined whether these offers should be treated as gift cards or coupons.)
Flash sales, on the other hand, are basically a means of disposing of excess inventory. "If the company could sell the merchandise at full price, it would have," says Sucharita Mulpuru, an analyst who tracks e-commerce with Forrester Research. The recession left a lot of luxury-item vendors with unsold merchandise, and Gilt, Rue La La, and a few specialty sites such as SniqueAway (travel), Wine.Woot (fine wines), and Zulily (deals for moms, babies, and children) function as virtual outlets.
Because the discounted merchandise is available for only a few days at most, and because quantities can be limited, these sites encourage patrons to act more quickly than they might on a traditional e-commerce site. One of the dangers of shopping at flash-sale sites is the temptation to buy stuff you don't really need simply because it's a deal–and one that might disappear if you wait.
But another danger is that the deal isn't as great as it appears to be: You should at least do a cursory price-comparison check elsewhere online–a flash-sale site might not always undercut other e-tailers. Also, be sure to review the return policies, as you should with any online merchant. Flash-sale sites aren't necessarily bad about accepting returns, but they may be more likely to insist that returned merchandise be in its original condition.
Will the Deals Continue?
Will flash-sale sites be able to offer deep discounts as the economy recovers and vendors don't have as much unsold inventory as they did, say, two years ago? eBay apparently thinks so: It has opened its own flash-sale site, FashionVault. And in the wake of failed talks to acquire Groupon, Google is reportedly working on a Groupon-like site with bargains from local businesses, to be called Google Offers.
But Forrester's Mulpuru questions whether any of these services will be able to sustain the type of growth they've enjoyed in the past couple of years. Local-deal sites require large (read: costly) sales staffs to get merchants on board, she says, and the pool of unsold luxury goods is unlikely to grow quickly enough to provide inventory to a growing number of flash-sale sites.
For shoppers, economic recovery means that the selection and number of luxury items on flash-sale sites may well start to shrink–but group-deal sites may fare better. Whatever happens down the road, though, these sites are clearly worth checking out now.