Well, it looks like Apple isn't going to go smaller without going a little bigger, too. We just heard that Apple's working on a smaller iPhone (an iPhone "nano," if you will), and now new reports suggest Apple's working on an iPhone with a larger display.
Reports by Taiwanese trade paper DigiTimes claim that Apple is expanding the regular iPhone's screen to 4 inches. According to DigiTimes, Apple is planning a 4-inch screen for its iPhone 5 in order to "compete with the Google Android platform in the 4- to 7-inch smartphone market."
This is noteworthy, of course, because it's been suggested that Apple's rumored mini-iPhone is Apple's answer to Google's mobile OS. So which is it? Does Apple need a smaller phone or a larger phone to compete with Android? Maybe both and maybe a third option to boot.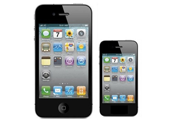 DigiTimes cites unnamed "component suppliers," who have "noted that the production lines for Apple's next generation iPhone have begun testing, and Apple is interesting [sic] in expanding the screen size to 4-inches to support the tablet PC market as the vendor only has a 9.7-inch iPad in the market."
Sure, that makes sense…although, last I checked, Apple basically owned the tablet PC market (although the iPad recently dropped to a meager 75 percent of the market share).
I, for one, would love a 4-inch iPhone screen (I often pull out my Droid X to read Websites…both for the screen size, and the network–sorry AT&T), but these are just rumors. In case you're wondering, the iPhone 4 has a 3.5-inch screen.
Speaking of rumors, a Taiwanese blog, tw.apple.pro, says there are three iPhone 5 prototypes currently being tested–one with a sliding cover, one with a sliding keyboard, and one that looks a lot like the iPhone 4.
Follow Sarah on Twitter (@geeklil) or on Facebook